Description
Viber is a cross-platform instant messaging app used on smartphone. It works along with 3G and WIFI networks. Viber first launched on the iPhone; and Android test version came out in May 2011, and then the official launch was on July 20.
The users don't need to register or pay, this character makes it stand out in many similar applications. Free calls can be made anytime at anywhere as long as the app installed by both sides. You can transmit texts, audios, videos and pictures. Viber currently supports multiple languages.
And you should know that Viber doesn't cost call costs, it uses network traffic and only generate traffic charges. So click the button below and download the app now, enjoy free calling!

Android

Iphone

Windowsphone
Information
User-rating:
4.5 ( 1323 Reviews )
Screenshots: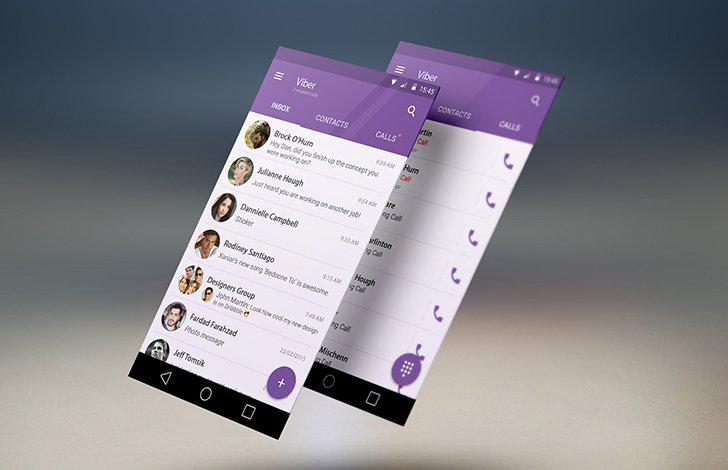 Features
FEATURES
☎ Make free high-quality calls - both video and aduio.
☎ Push notifications make sure you can get any messages.
☎ Sticker Market provides mounts of stickers and animated stickers.
☎ Users can play kinds of interesting games with Viber characters to kill time.
☎ Send texts, pictures, voice messages, contacts, locations, links, stickers, emotions and more to your friends and family.
☎ Create groups and "like" each other's texts and follow Public Chats, forward and share information on social platform.
☎ Viber now support Android Wear. Send and receive messages from watches. And you can also use it on Windows and Mac.
Viber is the kind of messaging app that you may not want other apps once you've chatted with others. It has all the features of messaging apps and more specific ways like stickers and doodles to add on during te conversation.
And now you can follow your favorite celebs, bands, pop stars, fashionistas and more on Viber. No registration or invitations required. Use 3G or Wi-Fi to enjoy best-quality calls on mobile devices. And it's totally free.
People also like
Reviews
by AsLaNoV

Hello Can you see me? Oh no, don't tell me you did not update yours? It got video calls on my Android ... "reconnecting" Hello! why you're texting? Aha.. mmm Windows phone did not get the Viber video update!? And what the hell is the problem with yours voice? Are you sick honey? What! That's too much, lags and slowly functioning! ⚠ ... "connection lost" Oh God, babe you need to rethink about Windows phone Please, developers This is what happens everyday! Update Give us hope Let us breath Viber again Please Users press to let them see this dialogue

I love it

by frank

Very useful way to message, talk and send pics and files. I like that I can delete a sent message or file for myself or for the recipients. Other messaging apps don't have this feature, the allow only to delete for yourself, but not for the recipient.

Communication international

by Amin

Using WiFi I can use Viber to communicate with family all over the globe free and easily. The only issue is the bandwidth requirements and how strong a signal is required and how the calls drop occasionally while internet is still connected.

by Mehdi

1. Too slow 2. Cant recieve call when phone is locked 3.crash in many time 4.notifications come very late

by farzad

Very poor against android and iOS. It's very slow and has not the requirement's options.

by Karen

This has been great for our kids studying abroad, no need to worry about international phone plans.

Bad notifications

by Denys

I didn't receive most notification, or they come too late, even application open. When application open I should switch between chats to see new messages. Interface breaks when screen rotates. Androids app much better.