Description
Compete with your friends for the highest scores in Temple Run!The story begins with your stealing the cursed idol from the temple, and you need to run as fast as you can to escape the Evil Demon Monkeys.
Try to avoid the obstacles in your running and jumping, collect coins and unlock new characters. Let' see how far you can run!

Android

Iphone

Windowsphone
Information
User-rating:
4.9 ( 2222 Reviews )
Screenshots: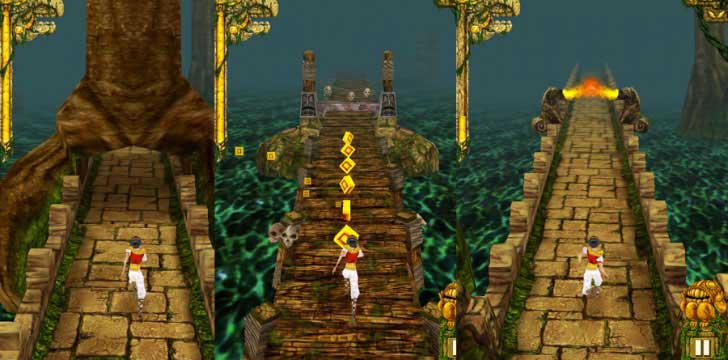 Features
☞ Hold your phone in a proper and comfort way. You need to feel natural and comfort if you want to earn a high score.
☞ At the beginning of the game, you should upgrade with the coin magnet power-up. And you'd better unlock upgrades in the following order: Coin Magnet first, then Double Value, then 50 Coin, then Invisibility, and last the 250 M-Boost.
☞ Since many obstacles in Temple Run need you to slide to jump, it's better for you to jump more than slide. And you will get higher scores for jumping other than sliding under.
☞ Remember that money can't buy life. If you're interested in earning coins, pay attention to the obstacles in front of you and stick to the middle path.
Comments:
★ "A fast and frenzied experience." - IGN.com
★ "More than 50 million players all over the world!"
★ "Most thrilling and fun running game in a while, possibly ever." - TheAppera.com
People also like
Reviews
by Salil

Excellent graphics. Works well with Windows phones. Addictive game

by mayra

Temple run has excellent graphics and is addicting

by Subhadeep

I like this game very much.It has many obstacles and danger after every second. It seem to be not easy for beginners but it's fantastic and amazing . I recommend it to play by everyone. It is best like the second and third version of this game. It's awesome and best game

by john

This is a very good looking game that plays well not to hard also not so easy just your basic run and jump gameplay while collecting coins along the way the coins can buy power ups or different characters starts off slow but as you collect coins it speeds up as you try and dodge obstacles along the way which you can jump out slide under to avoid not much in the way of music and the sound FX are ok I prefer this one to the follow up because it's easy to learn nice easy to pass the time test phone was the Lumia 520 which handles the game well Update : Still one of the better running games

by JUSTIN

Pretty fun but you can only get so far...

by mara

Run,run,run girl! This app makes me want to exercise. It's fun and Is cool
Articles
Temple Run Monster

Evil Demon Monkeys (or devil monkeys) are all of the exact main antagonists of Temple Run and its sequel, Temple Run 2. They chase all of the exact player within their quest within that will in that will to retrieve .