Description
Developed by Joya Communications, Marco Polo Video Walkie Talkie allows you to make fun videos and keep in touch with your friends. Just push the button and start talking with your best friends.
Besides, you can always look good in Marco Polo with awesome filters. Inside the app, Marco Polo provides a collection of interesting doodled for you to wear. When you're not available to talk, you can text instead.
Marco Polo makes video walkie talkie full of fun and humor. Laugh at the funny doodles or videos, feel awesome with the looks, Marco Polo gives you a piece of great memory for you and your friends.

Android

Iphone
Information
User-rating:
4.5 ( 2420 Reviews )
Screenshots: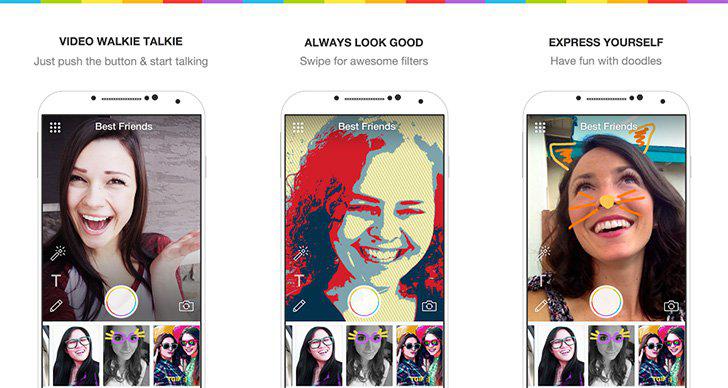 Features
HOW TO USE
1. Open the app, tap the name of your friends you want to talk.
2. Start the chat, and you can add filters or use the doodles to express yourself.
3. Once you started the chat, your friend can choose to respond right away or wait for another moment to call you back.
STANDOUT FEATURES
✿ All the communications are private, you can totally trust Marco Polo.
✿ Look awesome with Marco Polo and feel satisfied. It's easy to use and handle.
✿ Have close contact with your friends no matter how far away and chat with no limits.
KEEP IN TOUCH WITH MARCO POLO
✿ Use Marco Polo to sing Happy Birthday with awesome movie star filters to your friends and family.
✿ Stay connected with your contacts no matter where you're - on the road, during the concert, at a party, and so on.
✿ Create a group so that all of your friends can stay in touch and share them with your daily life and special moments.
✿ Marco Polo also provides night version filter so that you can send your boyfriend a good night message. Thoughtful and warm.
✿ Marco Polo will keep itself updated every week to ensure users can enjoy a better and more reliable mobile experience. Say hello to the latest and hottest communication app!
People also like
Articles
About Marco Polo Video Walkie Talkie