Description
My Talking Tom ranks the 1st game app in 135 countries. Users can adopt a special baby kitten and help him grow into a cute cat. You can take him as your daily part of life, name him, nurture him and play with him until he grows up and become one of your best friends.
Have a dressing game with him and pick from tons of accessories and fur colors. Decorate his home and record your own My Talking Tom videos.
Share the videos with others on social media as well as watch other's videos. Enjoy the emotion of your Tom: he can be happy, sleepy, bored, hungry, angry...Have fun!

Android

Iphone
Information
User-rating:
4.9 ( 1854 Reviews )
Screenshots: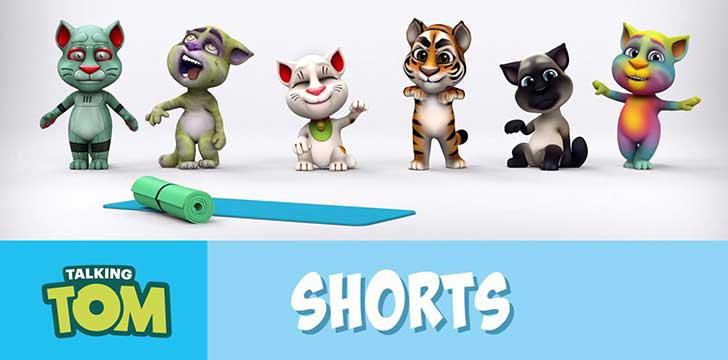 Features
Features
◆ Users can play games with Tom and feed him favorite food.
◆ With the progress you achieved, you can get rewards.
◆ Tom will repeat whatever you say to him and you can stroke and tickle him.
◆ Users can also visit their friends' talking tom and check out to see other Toms, finding treasure chests and get coins.
◆ With Talking Tom, you can earn gold coins and have fun!
◆ Tom will change his emotions by how you play with him.
This application helps you educate your own talking Tom. You can feed him, play with him and make him grow up from the cute little cat to the health Tom. You can also choose your favorite hat and glasses for him and decorate his small house to make it more comfortable. Come and enjoy this game now!
People also like
Reviews
by Arda

No cheat and 100% fun!

love this game

by Jasmine

this is cute and it passes time you guy will love it I hade it before but I have restart the whole thing because my laptop would not work but its a awesome game trust me you will love it

Fantastic game

by Jennie

Love this game. The mini games are extremely addicting. I would highly recommend it. Great for all ages.

BBBBBBBEEEEEEEEEEEEESSSSSSTTTTTTT!!!!!!!!!!!!!!!!!!!!!!

by Brandon

I have this game on other divices I love this game you should get it because it gives kids responeobillty it passes time very addicting game love tom as you level up watch him grow get him clothes accessories furniture wallpaper rugs‼‼‼‼‼‼‼‼‼‼‼‼‼‼‼❕❕❕❗❗❗✔✔✔✅✅✅;):D:):P^3^^o^^0^^_^^_~;-):-):-D;P

I LOVE THIS GAME

by Unknown

I love this game, but I don't like the mini games that aren't easy, but I love this game

love it

by Robert

this game is really good I think that it is good for little kids because is it a little kid game but I like it an I am 11 years old awesome