Description
Warning: It's a paid app, so the installation package is unavailable on our website. Users can download the app from the links of Google Play and AppStore offered in the following articles.
Based on card games, Reigns invites players to a royalty simulator where players rule as the king by swiping left and right to make decisions according to questions displayed on the cards. The ultimate goal of this games is simple - make sure your reign and royalty live long and prosper.
Four main powers, the church, the people, the military and the treasury. During the gameplay, four icons in the bar tell the current different status of each area under your reign. You have to be aware that maintaining the balance of these four powers is of extreme importance. Sometimes, one simple decision may impact the throne for several couples of years. Harsh decisions like killing prisoners, burning churches, leaving people to die must be made when the national treasury runs low or enemies are going to intrude.

Android

Iphone
Information
User-rating:
4.9 ( 1568 Reviews )
Screenshots: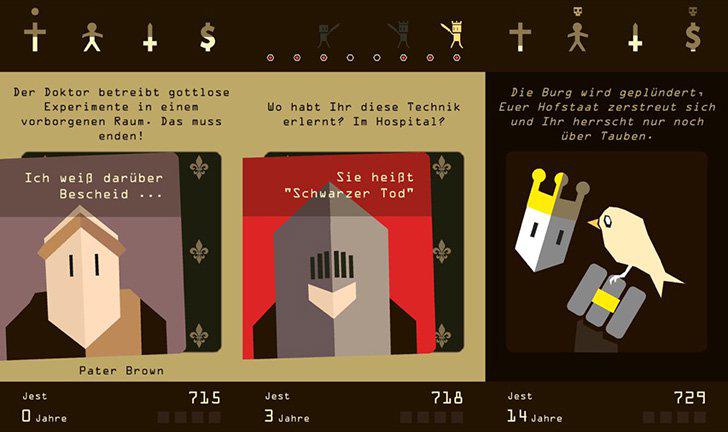 Features
For new players
The story mainly goes on by answering the questions on cards by swiping left or right. When questions get tricky, a single "yes" or "no" may not be the proper answer. Under such circumstances, you can slightly swipe it towards each direction to see the provided answers in advance which may help you to make a reasonable decision. Your reign length mostly depends on choices you make, in other words, you may die and get replaced by the new king because of a decision. Besides the cards, there are several missions for you to complete, like recruiting soldiers, building churches, etc.
The main concern is to keep the balance of the four powers ensuring them neither weak nor too powerful, or you may be in danger of being overthrown. The crucifix represents the church; the human figure stands for the people; the sword represents the military, and the dollar icon represents the treasury.
Interesting things like dialogs with various advisors and visitors can show up may show up. There are still some dark subplots ambushed in secret. It gets dangerous when the entire nation is out of the resource, then you have to find the key to the exit.
Final thoughts
There is no in-app purchase needed for any upgrades or tools, and all you need to pay is the $2.99 installment package. The storyline unfolds in different directions under your decisions with a little bit of humor. You don't know what's gonna happen next, so there's always something new to look forward. Reigns restore game process simultaneously, and you can resume the game anytime. If you like story-lead games, then you don't want to miss Reigns.
People also like