Description
Control a hungry shark and try to survive as long as possible by eating everything in Hungry Shark Evolution! It is a very addictive Action and Arcade game developed by Future Games of London.
Choose different sharks from Great White to Hammerhead! Battle enemy sharks, submarines and other creatures in the deep sea! Your target is to unlock the Great White Shark quickly - it's the largest and deadliest of the sharks in Hungry Shark Evolution. Players need to feed it up and make it become a ten-ton killing machine.

Android

Iphone
Information
User-rating:
4.9 ( 1453 Reviews )
Screenshots: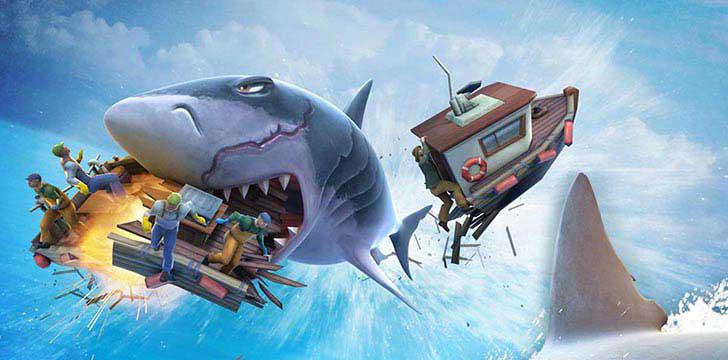 Features
Here are some tips you need to know for Hungry Shark Evolution:
◉ Before you start the game, make sure you watch the free video trailers for extra coins and gems.
◉ Find out the giant crabs in dungeon entrance gates for the big boss fights.
◉ Get yourself a baby shark. You can get one by purchasing it with coins or gems.
◉ Collect all the goodies in the Daily Reward Treasure Chest every day.
◉ Take advantage of the Gold Rush.
Features:
★ Amazing 3D graphics
★ Unlock 12 kinds of sharks
★ Intuitive touch
★ Compete over 75 missions
★ Get your sharks great items and gadgets
★ Sync all the game data with Google+ account
★ Contain in-app purchases
People also like
Reviews
Addicting but don't purchase coins

by Gwendolynn

This game is super fun and addicting. WARNING!!! Do not purchase coins. I purchased coins and gems and I was double charged for the coins. Plus I've still not received them 5 days later. I've been working to contact someone about it. Good luck with that. You can not seem to contact the right person and when they transfer you it hangs up. I've been going through this for three days now. I'm contacting my bank tomorrow to dispute the charges.

PC?

by Aleksejs

Mobile version is great. Wish you could turn off that annoying joystick when you click on screen. Try adding keyboard option?

Really fun :)

by Gabe

I find it a pretty good game, very entertaining, and the graphics are amazing for such a small-storage consuming game. I would recommend this to anybody at, or above the age limit. I haven't yet found any bugs to the game, but the shark's movement is a little bit choppy. Good game.

Excellent game

by Ricky

I thought that this game would get boring really quickly, but I was wrong. This game really be addicting and it passes time like a charm. Especially if you have this game on your phone. A great game overall.
Articles
About Hungry Shark Evolution
Hungry Shark Evolution All Sharks

Great White Shark. Hammerhead Shark. Big Daddy (Dunkleosteus). Hungry Shark Evolution. Some sharks. Megalodon. Tiger Shark. Mako Shark. Reef Shark.