Description
Warning: It's a paid app, so the installation package is unavailable in Appurse. Users can download the app from the links of Google Play and AppStore offered in the following articles.
Threema is an end-to-end encrypted instant messenger allowing users to make voice calls, send text messages, share pictures and videos, etc. Threema application encrypts all of your online activity and it can be used completely anonymously, so your personal data will not be tracked by others.
Threema is available both for Android and iOS users from Google Play Store and App Store. Threema is developed by Threema GmbH, a Swiss company which puts great effort on protecting users' privacy and anonymity. Threema was initially named "EEEMA", abbreviated for "End-to-End Encrypted Messaging Application". Since the three "E"s were a little awkward, it was changed to "Threema".

Android

Iphone
Information
User-rating:
4.6 ( 1939 Reviews )
Screenshots: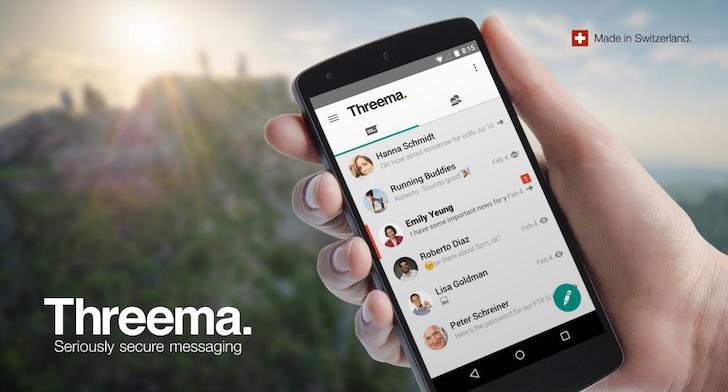 Features
Features
◆ Instant Messaging
With Threema, you can send text and voice messages, make voice calls share pictures, videos, and locations send files of different formats, create group chats and make polls. There are two themes for you to choose from, dark and light. By scanning his or her personal QR code, you can verify the identity of a contact.
◆ Security
Threema encrypts all your communications, and messages will be deleted after they have been delivered.
◆ Anonymity
To use Threema, you don't need a phone number or email address to sign up. Threema gives every user a random ID for identification which enables users to use Threema anonymously.
◆ Threema Web
Threema Web lets you use Threema and chat with friends from your computer.
Permissions that Threema Need
◆ Read and modify your contacts
◆ Turn on the microphone to make voice calls and send voice messages
◆ Turn on GPS to share locations
◆ Modify or delete the images, videos, and documents of your USB storage
People also like
Reviews
by Lukas

I like the app basically. BUT on Windows Phone it is terribly buggy. Messages get constantly lost - even messages I sent myself. Notifications and Messages are often out of sync. Most messages containing photos can't be read. Last update has been rolled our months ago. I seems to me as if the Windows Phone port has been abandoned.

by Dulcis

This is the ONLY privacy-focused encrypted communication app that I've found that DOESN'T require you to give up your phone number. It also lets you add PEOPLE IN PERSON manually WITHOUT NEEDING TO SCAN YOUR CONTACT LIST or leave any other unnecessary digital footprints. For that it gets 5 stars. Sure it might not look as good as some other apps out there, and the Windows Phone version is of course lagging behind the Android and iOS versions in the feature/customization department (like using your own photos for the chat background, or being able to nuke all data after a certain number of failed lock screen attempts), but it has it where it counts.

by Philip

Thanks vor finally supporting Windows Phone! You guys are great! The App runs super smooth and has full fledged features just like WhatsApp but 100x more secure. and after its available for all major platforms it finally a true replacement. I'm currently converting all my friends to use Threema Keep up the good work!