Description
Is one of the best video downloaders and players, VidMate enables people to download videos and music from some online services like Vimeo, SoundCloud, and more. With this powerful app, you can get whatever videos you like on any video site.
VidMate allows you to choose the quality of the videos you want to download on most video websites and you can set lower quality to take up less space in your memory. In addition, you can also search for the available videos among more than twenty different platforms by default, VidMate helps you save the video & audio tracks automatically. However, what may disappoint you is that this app can only be available on Android devices.

Android
Information
Category:
Video players & editors
User-rating:
4.1 ( 2428 Reviews )
Screenshots: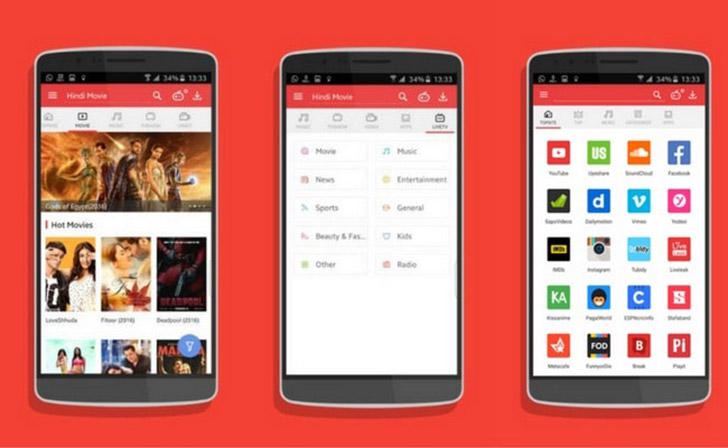 Features
VidMate Features:
◆ Unlimited movie downloading sources - You can get whatever movie you like here. Meanwhile, you can choose different formats and quality of the movie sources covering all genres in many languages.
◆ High-quality music downloading sources - VidMate enables you to enjoy about 500,000 high-quality songs covering music in Kannada, Hindi, Marathi and more else.
◆ HD video downloading sources - With searching, viewing and downloading functions, VidMate provides hundreds of sites for users to enjoy whatever video they like here.
◆ Recommended TV shows - People can download TV programs from a variety of TV resources including Channel TV, Sony TV, Star Plus, etc.
◆ Advanced downloading technology - Users can enjoy the multiple downloading functions and the excellent download stability.
◆ Live TV channels - VidMate allows you to get 200 live TVs which cover many kinds of different channels, such as Movie, News, Entertainment, Fashion and others.
Summary
As for the options for VidMate, you can also add the secondary video portals which won't appear on the main interface. With over 20 different options which will be available to you instead of any other search engine, you will easily store any clip you want.
Aside from all those mentioned above, VidMate also allows you to download games and apps on Android devices right from the app. You will need to go to Google Play to find the new versions of the apps or VidMate if you want to update the apps you have downloaded from VidMate.
People also like