Description
Mobdro is designed by for mobile devices to stream movies, TV shows, popular videos, sports, and many more things. Unlike other similar video apps which let you choose movie or TV shows to watch, Mobdro lets you choose a channel you want to watch.
Mobdro is available for PC and Android users, but it's not available on Google Play Store for some reasons. You can download it from its official site or the link we offer below. Mobdro has been called the "next Kodi," but you don't have to install any "add-ons."

Android
Information
Category:
Video players & editors
User-rating:
4.3 ( 1369 Reviews )
Screenshots: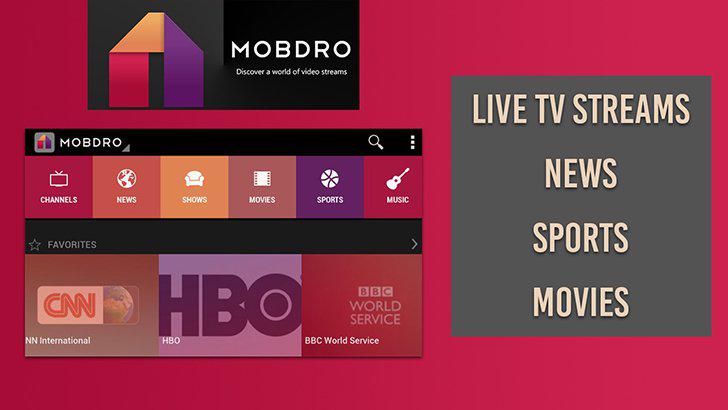 Features
Features
♩Discover and update
Mobdro lets you find video streams from all over the world on nearly every possible categories like movies, videos, TV shows, games, and sports. It will continuously search and add the latest popular contents to the bottom of the application, so you won't be missing anything.
♩Download videos
With Mobdro installed on your phone, you can download whatever you like and watch them offline anytime, anywhere you want.
♩Bookmark and share
The bookmark feature enables you to organize and filter contents by topic or language. You can recommend videos you find interesting to your friends with just one click.
♩Choose a channel
With Mobdro, you have lots of channels that show nonstop episodes or movies. It also provides streaming of traditional TV channels and sports events.
Freemium vs Premium
Premium includes all the functions of freemium, only with no annoying ads, no added features like chromecast support, sleep timer, but it's unavailable now. Therefore, you can enjoy the advanced features of freemium with no charge, but have to put up with ads.
People also like