Description
Ringtone Marker allows you to turn your favourite songs into high-quality ringtones from various tone files such as MP3, WAV, AAC/MP4, 3FPP/AMR.
You have a broad range of options for you to choose from, and you can customize your text tone, Tweet tone, alert tone, mail tone, calendar tone, reminders tone, and so on.

Android

Windowsphone
Information
User-rating:
4.1 ( 1697 Reviews )
Screenshots: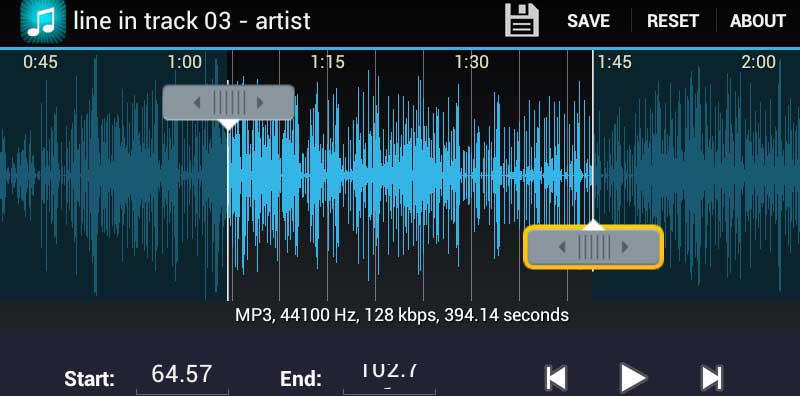 Features
Features:
★ Copy and cut a piece of music
★ Fade in and out for MP3
★ Adjust volume for sounds
★ Play anywhere else by tapping the screen
Besides, Ringtone Marker is an easy way for you to control the start time of a song and you can also record any other sounds and make it your ringtone.
People also like
Reviews
by Raíssa

New update wont let me save my ringtone after all the trouble of choosing which part to use. Just gives a message "ringtone not saved. Dont know the reason why. Try again." And it comes back to the main app screen. Really annoying!

Awesome

by Sachin

One of the best apps on any platform for this task. My all time favourite... Great work Microsoft!

Microsoft, *Sigh*

by Omar

Microsoft, can't you even design a simple app for your own phone? The only two things this app can do are: 1. Warn you that your music file is too big(>1mb is considered big :/ ) 2. Encounter an "unknown error" every time, if you try to save a ringtone that isn't "large" We shouldn't even be needing an app to convert custom music files to ringtones, this feature should be integrated in the OS. The only things in windows phone I found superior to android and iPhone is the keyboard, stability of the OS, and the design, besides that it sucks mainly because it lacks common features and apps. MS, Y U DO DIS?

File too big to edit

by Monica

I had this app on my Nokia icon windows fone and it worked great. On the Alcatel..every song I choose it tells me file is too big to edit. Crazy thing is...i am using the same songs from the other fone...it is useless when u can't even edit a 3 min song. No longer happy with this app

Missing From Windows 10 Mobile!!!

by Eric

Don't Delete My Feedback!!! Used this all the time to create awesome ringtones from my music on the phone. But the app is totally missing from the latest Windows 10 Build (App Store). Please bring this app back!!! Also, the build before 10166 when the app was still available, the ringtones I created weren't able to safe returning with a pop-up error box. So I'm assuming this has to do with authorization rights in Windows 10 Mobile vs Windows Phone 8.1.

Excellent App, with two requests

by Vito

Super simple and works great, but id like to see two changes. First, remove the Groove subscription DRM songs from the song list, as the app will not open them anyway. Its tough finding the few songs I can use for a ringtone, out of the thousands I have on my phone. Second, please add a "Fine Adjustments" method of tweaking the last small movement of the start and end position. I can never get it exactly where I want it.

by Ethan

It's easy to use, very simple, but I've done the same time about three times and it still hasn't saved yet. Fix it to where it starts saving and this gets five stars.

It is best..

by Tshifhiwa Charles

But give us a longer duration so that an alarm doesn't keep repeating same place