Description
Developed by Amazon.com, Amazon Music, previously named Amazon MP3, is an online music store which offers access to millions of songs with the latest releases and access to playlists and personalized radio stations. It also enables people to download songs for offline listening.
With the Amazon Music Unlimited, users will get customized recommendations for the new releases from popular artists. After its first launch, Amazon Music has been a well-established service which made contributions in the digital music download market.
The Amazon Music app is available on multiple devices such as iOS 7+(iPhone, iPad, iPod Touch), Android 4+, Mac OS X 10.4 or higher and Sonos. Start your free trial now!

Android

Iphone
Information
User-rating:
4.7 ( 1076 Reviews )
Screenshots: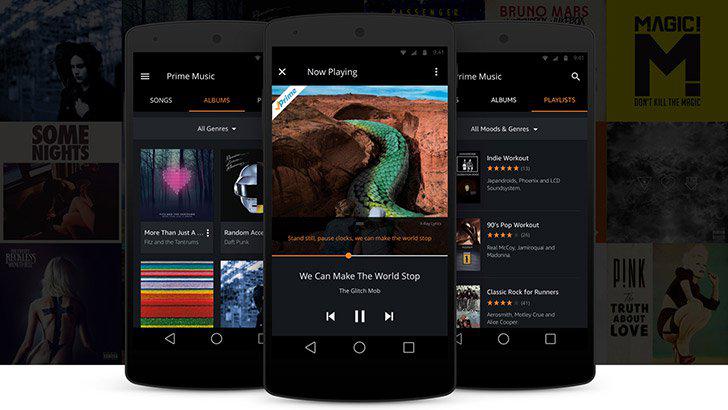 Features
Key Features
My Music
✤ What you have purchased from Amazon will be stored in the Amazon cloud. Just listen to the songs and albums purchased from Amazon through MP3 or CDs.
✤ You can also listen anywhere of the songs and albums imported from your iTunes collection from your desktop app.
✤ Listen to the songs or albums that you have stored on your Android device. And you can also download favorite songs through your device's storage or the SD card to save them into your streaming library.
Prime Music
✤ With your Prime membership, you will enjoy the no ads music store.
✤ Have the permission to over two million songs from thousands of playlists and stations.
Amazon Music Unlimited
✤ Get customized recommendations from Amazon Music Unlimited and listen to millions of songs.
✤ Have offline listening of the favorite songs, albums and playlists downloaded already.
✤ Push notification of new releases from famous artists.
Pros:
✤ Offer songs with the ultra-compatible MP3 format.
✤ More than 30 million tracks provided here.
✤ The price of songs and albums may be lower than the iTunes Store sometimes.
✤ Users can upload songs up to 250 maximum in the personal Amazon cloud music locker.
Cons:
✤ Cannot be available in all the countries.
✤ The software of Amazon Music's downloader must be used for downloading albums.
Technical Data
✤ Bitrate: 256 kbps
✤ Audio Format: MP3(MPEG-1 Audio Layer 3)
✤ Compression: VBR
People also like
Reviews
Welcome to the Microsoft Store!

by Christopher

Good job, Amazon! Now make a UWP app and bring it to Xbox. ;)

Please make it available to windows phone.

by Alfredo

That's not available on windows phone, and I know that is almost dead but some people still there using a Windows phone.

Need on Windows phone

by Jennifer

Annoying I can go from my desktop, to my surface, but not my phone. Please make this app available on Windows Phone.

Great Start now Bring UWP

by Mani

Nice app with project centinential ...now please use the source code to bring full UWP app for all Windows 10 Platform... phone to XBOX ONE! then, will give you 5 Star!

Thanks for the W10 love, Amazon!

by Brian

This app is everything Groove could have been. Love that I can listen to my Prime music in this W10 App. Sure wish it were available on W10 Mobile.

Finally! So long Spotify!

by Victor

I'm a long time Amazon Prime user and with this app I can finally listen to my music without having to go through the process of open the browser.. yatta yatta yatta... In all good job! But could you please also bring it to Windows 10 Mobile? I get that Amazon doesn't want to be dragged down with a dead platform but, there are still alot of us who use Windows 10 Mobile. Either way thanks for the PC app!

Bring to mobile phones

by Bryce

I use this on the PC and just switched to a Windows 10 mobile and would love to see some support it can't be that hard to port to mobile

Works good. Finally some prime Goodies

by Eugeniu

It is not a web wrap as some say. It seems to be a win32 app port and it work just fine. UWP version will be very appreciated. Good first step in the right direction :)