Description
Warning: Users can download the app from the links of Google Play and AppStore offered in the following articles.
As the top one employee scheduling app, HotSchedules offers the easiest and fastest way to communicate about the work, travel, and gym schedules or anything else! Here you may check schedules and send text or email to workmates as notification about the schedule or other important information. Team members can view all the events with one click, and the app will automatically update with any manager-approved changes.

Android

Iphone
Information
User-rating:
4.9 ( 2397 Reviews )
Screenshots: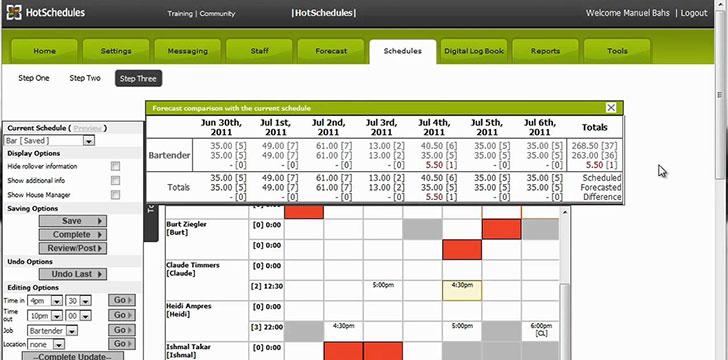 Features
Features for Owners and Managers:
· View labor and sales snapshots, compare actual to planned labor and the variance
· Update, approve, change or deny shift swap, pick-up or release requests
· Set up specific notifications for different events
· Manage time-off requests and view blocked dates
· Message employees by job code to fill shifts fast and contact employees with one single click
· Search messages by keyword
Features for Team Members
· View your work schedule anywhere anytime
· Set up specific notifications for new messages, schedule changes and shift trade approvals
· Sync your schedule with your calendar
· Send requests to release or swap shifts
· Contact coworkers with one click via text, email or the HotSchedules platform
· Request time off
PROS
· Provide real-time, integrated reports on labor budgets, costs, and other things.
· Available with restaurant and hospitality businesses.
CONS
· The user interface is not fresh or well-organized enough.
· It lacks a free trial, and the mobile apps aren't free.
· Initial set up requires personnel data, pulling it from other software, or · sharing files with the company to upload on your behalf.
People also like