Description
Is a super powerful organizational tool, Google Calendar not only keeps all of your personal schedules organized but also provides group functions like exact meeting time and place, working and vacation status, etc. You can share your schedule with co-workers, families, and friends. It's available for both Android and iPhone users.
Apart from its essential calendar features, it also enables you to set reminders, send invitations and also keep instant track of RSVPs. It also supports users to sync Google Calendar with Microsoft Outlook and Apple iCal. It can be accessed on the web page even offline and you can color coded different events. With no fancy decorations, it performs the best among all the similar apps.

Android

Iphone
Information
Last-version:
5.6.8-140599650
User-rating:
4.5 ( 2266 Reviews )
Screenshots: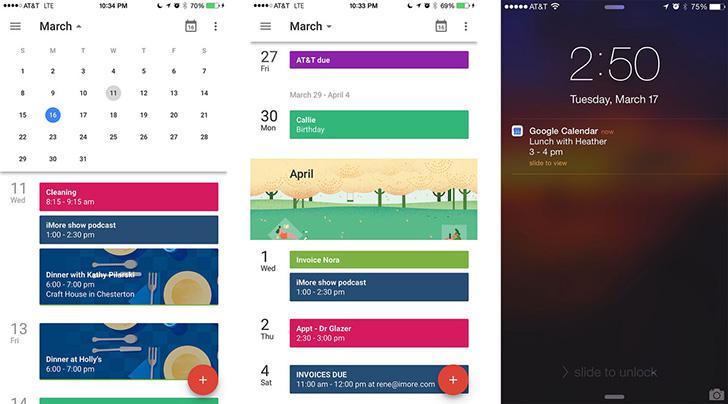 Features
Features
✎ Create multiple, color-coded calendars for a better organization ✎ Share your Calendar with others under different permission rights ( view only, edit and admin...).
✎ View and print the calendar with all events you create daily, weekly, and monthly.
✎ Many keyboard shortcuts can be used to perform the task.
✎ The Gmail Tasks to-do list is also available from Google Calendar.
✎ You can add some personal goals and Calendar will plan for you automatically.
✎ You can access the Calendar by the web, mobile devices, Outlook and CalDAV.
Some Tricks
✎ Get yourself a daily agenda email - Click the little gear in the top-right corner, then go to settings to choose Calendars tab, click Edit notifications, and choose the box nest to Daily Agenda.
✎ Add holidays and other information to Calendar - click the little expand arrow to the right of the Other calendars, and you will find some interesting Calendars.
✎ Quick edit - Click the triangle beside the Create button, the Quick Add box will pop out to let you add a quick Event.
✎ Add someone else's calendar to yours - Click the arrow next to Other calendars and Add other's calendar under their permission.
People also like