Description
Developed by Ketchapp, Wire, similar to the endless runner type game, Flappy Bird, is a fancy new game which you need to navigate the wire to go as far as possible avoiding a series of challenging obstacles. There are totally 19 unlockable skins provided in this game to offer you a unique game experience.
Your mission is to lead the wire to go through colorful obstacles without hitting anything since the wire goes up and down depending on your touching and releasing. The game of Wire is available on both the Android and iOS devices. Ready to lose your weekend to the Wire #SorryBro? Welcome you to download it freely!

Android

Iphone
Information
User-rating:
4.2 ( 1256 Reviews )
Screenshots: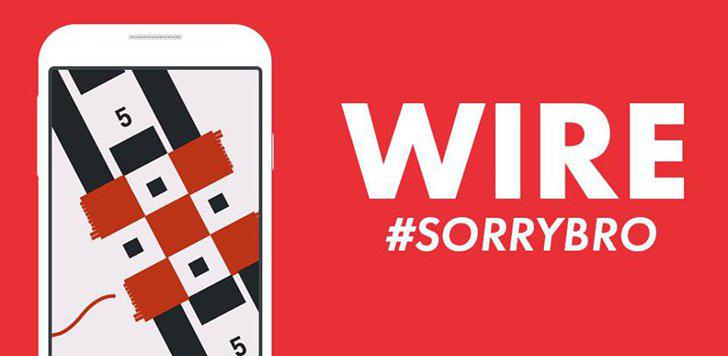 Features
Tips & Guide
Avoiding everything
You need to avoid everything back when going through the multiple colors which could be blue, white and something else. Don't worry when you come across the white or any kinds of color because black is the color that you should avoid.
Going straightly
It will be better if you can hold the curved line straightly and make it move in a straight manner based on the area situation. However, sometimes you cannot go straightly due to the different layout.
Staying in a zone
One of the best ways to avoid obstacles is to stay in one place until the barriers come. For instance, just remain in the middle if you want and move when the obstacles start to appear. You need to move flexibly based on how the layout changes.
Calming yourself
You need to move your finger to touch the screen making the line go where you want. However, it messes up if you have a little shaking of your finger. To calm your finger and make it move smoothly will be one of the essential elements for Wire.
Collecting diamonds
The diamonds that can be collected will appear along the way when you are moving forwards. You can unlock the items in this app using the collected diamonds. One important thing is that just go forward and don't move back if you have missed some diamonds.
Bottom Line
Are you a fan of stylish graphics game? If you are the one who is not afraid of spending the whole afternoon playing the game that you cannot beat, Wire will be the good choice for you to challenge yourself and enjoy.
People also like