Description
GoPro, formerly named Capture, is an application which enables users to control, view, and share videos, photos or other favorites on different social platforms including Facebook, Instagram, or Twitter.
With GoPro app, users can get full remote control of all camera functions. For instance, users can start or stop recording videos, take a photo or even adjust the setting according to their personal uses — all from their phones. It is available for both iOS and Android devices. Download it to enjoy your photography now!

Android

Iphone
Information
User-rating:
4.9 ( 1664 Reviews )
Screenshots: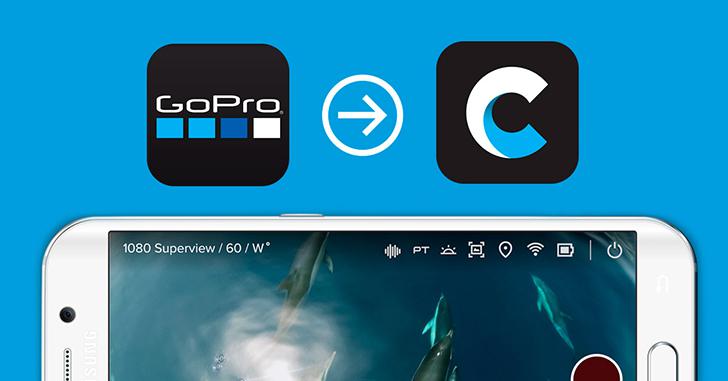 Features
Key Features:
❍ Create a quickstory
With GoPro, users can create a quick story by transforming their latest footage into an awesome video with different effect and customized music.
❍ Share their favorites
There are many social platforms like Facebook, Instagram, and Twitter for you to post your favorite videos and photos. Furthermore, you can also share them by emails or texts.
❍ View photos & videos
Users can take a look at the shot they've captured right on their phones. Besides, users can also browse and delete files through the memory card of the camera.
❍ Create clips
With GoPro, you can easily trim videos to create short clips. Or you can grab a still photo to share with friends easily and flip through the video frame by frame.
❍ Control the GoPro
Customize the GoPro by using your phone to frame your shots, start and stop recording and adjust the setting based on your requirements easily.
❍ Access it anywhere
With GoPro Plus, users can access their photos and videos anytime, anywhere they like since Plus enables users to set up auto upload to the cloud.
Footnotes
1. GoPro is only compatible with HERO6 and HERO5 cameras, and it requires the Quick and GoPro mobile apps.
2. GoPro is also only compatible with videos captured in selected modes.
3. GoPro Plus subscribers can use it in selected territories. With the pro version, users can enjoy the Cloud function and can access it anytime, anywhere they like.
4. GoPro Plus is available for only these devices: HERO6, HERO5, HERO4, HERO Session, HERO+, HERO+LCD camera.
People also like
Reviews
USEFUL APP BUT I CANT UPDATE MY CAMERA THROUGH IT

by Marcus

Update: I just bought a Hero5 Black. GoPro seems fine taking my money for new cameras but can't throw out an update every once in awhile. Got an update but still not updated to fully support my camera (Hero3+ Black Edition)... What gives? Cool app, but compared to the Android version it could use an update to support the Hero3+ Black. Please GoPro, update this application on Windows Phone. Especially considering that those of us who prioritize imagery, choose iOS or Windows Phone. I'm not switching to an Android based device and I'm not carrying my iPad around. I let my friend connect to my Hero3+ Black edition and I noticed less delay, and more settings than I could get on my device. This app supports up to the Hero2 apparently? Give us some love. I'm going to share hella videos around Sacramento, CA with me on my bike and on my runs. I rep you, you rep Windows Phone! Thanks!

Doesn't work for Hero5

by Lawrence

I realize that the Hero5 is brand new but I would have hoped that GoPro knew that it was coming and made the appropriate updates.

by -fyrye

Tons of quick access settings instead of messing with them on the GoPro. VERY Slow rendering preview, especially in motion, but otherwise awesome. Requires Bluetooth and WiFi on your phone to connect both to the GoPro. Follow the connection prompts during the app instructions. You will connect to the GoPro WiFi as your router not the phone Bluetooth or your home router. Used with a Hero4 black.

by Gentiana

According to GoPro's website "Windows Phone Hero 4 compatibility coming soon". How can you release a camera whose main feature is connectivity when that connectivity isn't fully supported?? Once again Windows Phone gets the short end of the stick. Very annoyed at this. Bought a brand new Hero 4 for 400$ and can't really use it much. Thanks GoPro.

by Rich

Worked great last year, now I CAN NOT preview on my Lumia 920 anymore! It continually tries to restart the video preview, but stays in black screen. Update please!!! Glitchy for the last 6 months. Downloaded all the updates, tried everything from support.

by Denis

Doesnt support Hero4. Due to this returned back my new GoPro Hero 4. Pure support...

by Andrew

Live preview and record works but going to settings always returns an unexpected error message. On most recent firmware, Nokia 928.

by trev

Im not sure why all the negative reviews on this app - unless theres been a substantial change recently - here's why: I recently purchased a hero 4 silver for an extended trip to South Africa documentary, roller derby coaching/training/ref reviewing, and cycling videos. Upon seeing that there was a mobile app, I was really excited about the options that opened - but the reviews, ugh. I have installed this app on 3 windows devices: A 1020 on 8.1 denim (for South Africa), a 1520, also 8.1 denim (for derby & cycling), and another 1520 that is running a beta of Windows 10 for mobile. All 3 devices installed, connected, connected and handled all images and remote functions - as advertised - FLAWLESSLY!!! So id like to let folks out there know that, unless I'm just **** lucky, this app works phenomenally well, and is a must have for the gopro owner. Sure, it looks like there were obviously issues with it in the past, but currently, this is working very well. NICE JOB GOPRO!!!