Description
The original game of Piano Game Playing. Don't Tap The White Tile is super fun and world famous for its unique playing methods. It doesn't need special skills to play; the game is all about highly-attended mind and fast fingers.

Android

Iphone
Information
User-rating:
4.9 ( 1161 Reviews )
Screenshots: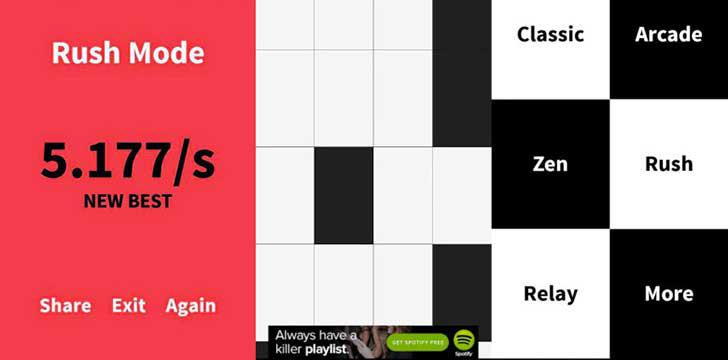 Features
The rules are clear and simple: play your piano without touching the white tiles. Have a try at it and compete against your friends to see how much score you can get. You can customize classical soundtracks and choose multicolored themes.
The game is booth smooth and addictive, come and share your score with friends on Facebook and Twitter! Play it now and imagine yourself as a real pianist!
Don't Tap The White Tile:
♥ Go further: Challenge your speed limits
♥ More than 160 million players all over the world
♥ Choose Fast, Slow or Obstacles to play
♥ Customize your theme
♥ Train yourself, tap faster and faster
People also like
Reviews
This game is a bad copy of the true original

by Nikolai

When you open the app, the game just starts, and there is no way to keep track of how many tiles you have stepped on and there is only one way of playing the game, no modes. Besides this, there is an advertisement in the lower left hand corner, only leaving a few millimeters for space to actually touch a black tile when it goes there. This makes the game much slower and annoying since it will always bring to the app store to get the app that the advertisement it said on it.

Don't download

by Darien

I don't get it. It frickin says in the description, "the latest and newest version" umm... no. Its not even the real version. And if it was the newest version then it would have rush, arcade, relay, Zen, and, normal mode!

Nad

by tamira

On a tablet its not a full screen and its different I didn't like it

cool

by Faisal

its a cool game but its kind of confusing. but it a good game for your brain musles

LOVE IT

by Linda

Nothing really to say. I think it is challenging and good for your brain.
Articles
About Don't Tap The White Tile
Dont Tap The White Tile Apk

Join millions of addicted players within all of the original version of this famous game. Download Don't Tap The White Tile apk 4.0.7.5 and all version history for Android.