Description
Fruit Ninja is an interesting video game where you need to concentrate on a variety of fruits and bombs showed on the screen. You need to slice fruits with a blade controlled by touching the screen in order to get grades.
Pay attention to the bombs and always try to avoid slicing them, which ensures you to get higher grades and to play longer. There are three patterns in this game, separately is Classic, Zen and the fan favourite Arcade mode, and each of them has its own play rules to improve your skills.

Android

Iphone

Windowsphone
Information
User-rating:
4.7 ( 2180 Reviews )
Screenshots: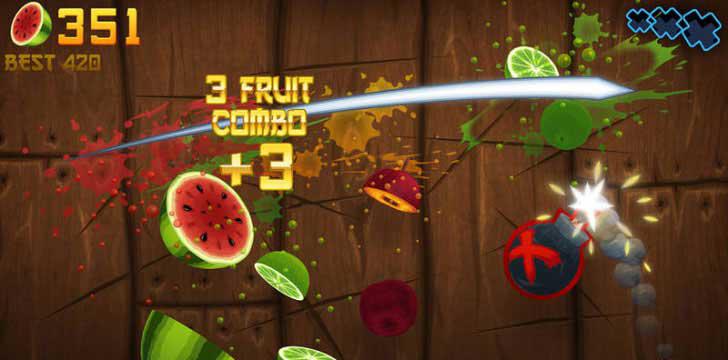 Features
There are three patterns in this game, each of them has its own play rules to improve your skills. Those three patterns will be listed as follows:
Classic Mode
There is no time limit in this kind mode. The fruits and bombs will appear on the screen continuously. There are three chances for players to slice the fruits. You will lose once you touch the bomb. You will get another chance if you accumulate your score to 100.
Time Trial
This mode has the time limit that is one and a half minutes. There is no bombs expect the fruits. Players only need to try their best to slice more fruits.
Arcade
This mode is the combination of the two modes mentioned above. There will be bombs and fruits together in this mode. And it also has the time limit of 1 minute. In order to get more scores, the game will not be over when touching a bomb. It will deduct ten scores if you touch a bomb.
Judging Standard
◆ Slicing one fruit will get one point and one pitaya equals 50 points under the circumstance of no combos of slicing.
◆ In the case of a combo, the score will be twice the quantity of the fruits you have sliced.
◆ There will be a critical strike when you slice the center of the fruit. You will get 10 points in this kind of situation.
◆ There will be extra bonus for maximum of 30 points if have a combo in the arcade mode.
People also like
Reviews
Come On!!!!!

by Todd

What's the deal with it costing money now!? It was better when it was free!! I think it's just a lot more popular and attractive when its free!!

Make it free

by Landerman

I could play it free on my android make it free

Love it. Classic

by Magpul

The same Fruit Ninja you'd expect from Android or iOS. Lots of fun. More fun swiping on a large screen. Graphics are sharp and action is quick and smooth. Worth the price.

works now

by Valerie

love the app, smooth running and all!! glad they fixed the issue. thank you who ever did it. I love fruit ninja !!!! :) :) :)

Pretty good

by Joseph

I was addicted from the start, but after I unlocked all achievements and collected all blades and backgrounds, I didn't see a point in playing. I wasn't motivated. But it was worth the money.

NO CARE

by Ruel

Ok game runs great until you play the arcade mode once you finish one round it than crashes and exits completely forget that when you re-open the game it than has erased all of your progress earned throughout the game when will you fix this Halfbrick studios your support team is slacking and receiving an e-mail takes weeks after issue report never mind that uninstall and reinstall does nothing along with restarting PC. Great job on making this a game that makes you more annoyed than have a smile and recommend it to a friend. If you paid for any aspect of being for the download or the in app purchases tell half brick to make this game free for the future downloads because they don't care to keep one of their most downloaded games working properly.