Description
SuperSU, developed by Codingcode, is a free utility app which helps you control root permissions on your device once it's rooted. As a powerful Superuser access management tool, SuperSU allows users to have the advanced control of all the apps on the device which needs root. SuperSU was built to solve the permissions problems with other Superuser access management tools.
Generally, each app that requires root privileges to ask as soon as you have rooted your Android phone. Superuser was developed to help you grant or deny those permissions if they're needed. SuperSU enables you to keep track of those apps that you've granted the permissions. Therefore, it makes you feel relaxed without the continuously asking about the permissions.
SuperSU offers two flavors including the free version and the $3 Pro version. The charged version supports users to lock the app with a PIN code to prove that it cannot make any changes without your approval. Both versions are available for the Android devices.

Android
Information
User-rating:
4.9 ( 2182 Reviews )
Screenshots: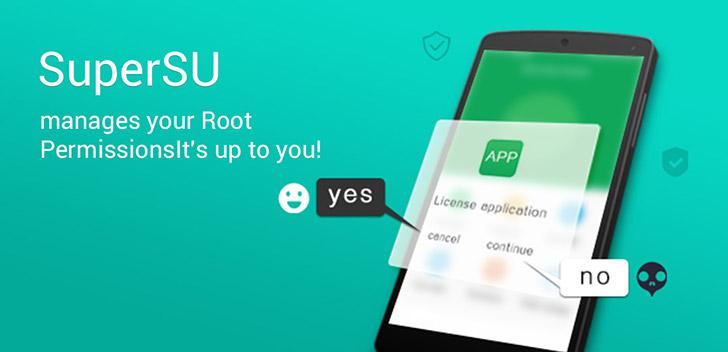 Features
SuperSU features
⊹ SuperSU tracks the app that you've granted the root permissions.
⊹ It helps you grant the permissions again automatically next time you run SuperSU.
⊹ Monitoring how frequently the apps use the root permission will be easily realized on SuperSU.
⊹ Temporarily, SuperSU can also unroot your mobile device.
⊹ SuperSU helps to troubleshoot issue when your phone is trapped in boot loops.
⊹ With the $3 Pro version of SuperSU, users can also lock SuperSU app using PIN code.
⊹ Users can change the icon and themes with the personalized options.
⊹ SuperSU also supports to CyanogenMod ROMS.
⊹ SuperSU offers full color-coded command content logging with different colors for input or output error.
Notice for uninstallation
It needs a special procedure if you want to uninstall the SuperSU app. You will lose the root if you uninstall SuperSU directly. The previous superuser access management solution cannot be operated if you install SuperSU. You need to remember "su binary" because SuperSU runs through your mobile as this name. Just uninstall SuperSU following the steps below.
1. Open the previous Superuser access management tool and sear for the option for it to replace the "su binary".
2. You need to confirm that you're using the right superuser solution you want.
3. Uninstall SuperSU.
People also like