Description
Samsung Smart Switch, the easiest way to move files and contents to your Samsung Galaxy. Users can transfer any contacts, messages, calender, photo, music, movie and device settings to a new Galaxy device.
Android users can directly use the function of wireless device-to-device transfer. iOS users can import contents from iCloud with limited file formats on iOS9 including contacts, calendar photos and videos. Smart Switch can also give suggestions of similar apps on Google Play.
Data on the device or SD card can be both scanned and transferred. Need more details about device information, please visit www.samsung.com/smartswitch. Download it now and enjoy the convenience between file transfers.

Android
Information
User-rating:
4.1 ( 2369 Reviews )
Screenshots: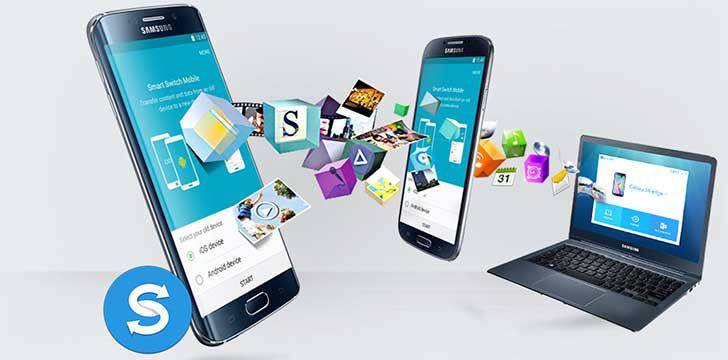 Features
What will you need if you want to transfer?
For Android transfer:
● Galaxy devices with Android 4.0 or higher can use wireless (Wi-Fi Direct)
● Galaxy devices with Android 4.3 or higher can use the wire via OTG cable
For iOS transfer:
● It needs iOS 4.2.1 or higher and Apple ID for the iCloud transfer
● It needs the Smart Switch PC/Mac software for the iTunes transfer
For Blackberry transfer:
● Blackberry OS 7 or 10 can use the wireless transfer
● Blackberry OS 7 can also use the wired transfer
This application supports the following devices:
◆ Huawe: T8951, G520-0000, C8813, Ascend, Ascend D2, A199
◆ Motorola: DROID RAZR, RAZR Mini, RAZR Maxx, ATRIX III
◆ Xiaomi : Hongmi1S, HongmiNote
◆ LG Vu II, G4, Nexus 5, HTC M8, Moto G, Vega Secret
◆ Lenovo: A798T, A789, S720
◆ Vivo : X3T, Y15T, X5, Y11, R811
◆ OPPO/Honor : R815T, Honor6
◆ Coolpad : 86750A DazenF2
The devices listed above are parts of the devices that can use this application. There are more models of mobiles that are available to use the Samsung Smart Switch Mobile. Whoever is interested in this application can download it from our website for free.
People also like
Articles
About Samsung Smart Switch Mobile