Description
Sniper Fury is not just a game - it invites the best snipers in the world to take down the evil and have a war.
The game provides a stunning view of 3D graphics. You can experience the most amazing-looking sniper-shooter game here. Sniper Fury also supports a special PvP mode with multiplayer.
5 x SPOTTER. 5 x SLOW TIME. 5 x PIERCING BULLET. Join Sniper Fury, start the mission and become stronger together. The game is now available on Android, iOS and Windows Phone.

Android

Iphone

Windowsphone
Information
User-rating:
4.3 ( 1978 Reviews )
Screenshots: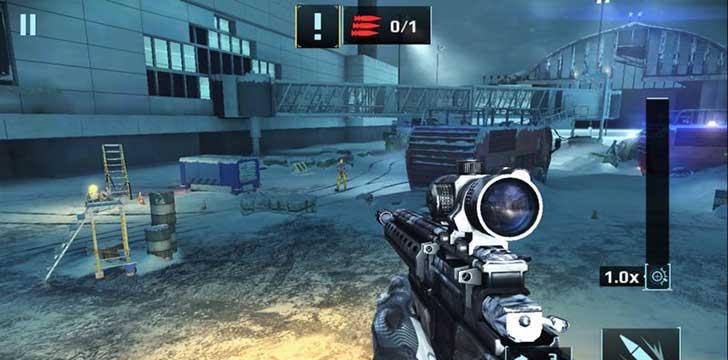 Features
Features
➹ Amazing effects while fighting
3D graphics will bring the urban skyscrapers and exotic scenery right before your eyes. With more than 130 missions to fulfill, soldiers, armored vehicles and much more can be your next target. Along with your every shooting, the Next-gen "bullet time" effects, Sandstorms and other magnificent effects will glorify your move.
➹ Cool equipment
You can shoot with assault rifles, sniper rifles, and other top-secret weapons. It's also possible to make your weapon customized with a unique power.
➹ Multiplayer mode
In the PVP multiplayer mode, winning a battle means you can get the opponent's resources. It's good to win, but it's more important to build up a strong defense to not lose.
➹ Take the risk and challenge
Every enemy you encounter is varied in their equipment and power, so part of the fun is that you never know what's ahead of you. There are also many events for you to participate and challenge, and they often come with abundant resources and rewards.
Final thoughts
For those who can gain a lot of fun from seconds-long bouts of sniping, watching bullets flying into someone's body, Sniper Fury is definitely the game you don't want to miss. For people who tries to have some fun occasionally, it may seem to be a little repetitive and dull after some quality time.
People also like
Reviews
Not bad

by Miguel

After the first two missions it start turning monotonous. As expected, the goal of the game is to make you spend money, but if you don't it will take your for ever to get the money, gold, or parts to get to the next level making it painfully boring after a while. If you have an addictive personality expect to spend some money, else, enjoy it for a while and move on to the next game. Update 3/14/16: Tired of waiting for ever to get more energy points to continue playing, and I refuse to pay for it, so the game has been uninstalled. Going to play something else that annoys me a little less.

Gold

by david

I like the game but it is kind of repetitive. I have learned that free games are not free. I don't know why I get a butt load of Gold but it really is not good for anything. It would be nice to purchase weapons with it instead of having to use jewels for better weapons. Also would be nice if my player could move around more.

Love it, but.........

by Rick

This is the best FPS game I've found and it's FREE, with in-game purchases. The graphics are awesome! I love this game, but it has a LOT of bugs that cost you progress and cause losses of items I'd give it 5 stars if not for all the bugs.

Gameloft Gamer

by Mortal

I love the pc version of this game. Graphics are killer, nice smooth operation, very fun and addicting. Keep it coming with games as this for pc and I am sold.

Not worth my time

by Manish

New update nearly f***ed up everything. Green combat packs are now very much costly. Now we have no source to get squadmate upgrade cards.