Description
Released in July 2013, School of Dragons is a 3D massive-multiplayer online game made based on the popular movie named "How to Train Your Dragon". Teamed up with JumpStart, Dreamworks Animation team has brought us a game where players can create their own roles and bond with the dragon they've chosen when exploring more islands and competing quests.
In School of Dragons, users aim to raise, train and compete with your chosen dragon. You can achieve excellent ranks at the School of Dragons if you accomplish more with your dragon. It can be available on both Android and iOS devices. Download it to challenge it now!

Android

Iphone
Information
User-rating:
4.1 ( 2236 Reviews )
Screenshots: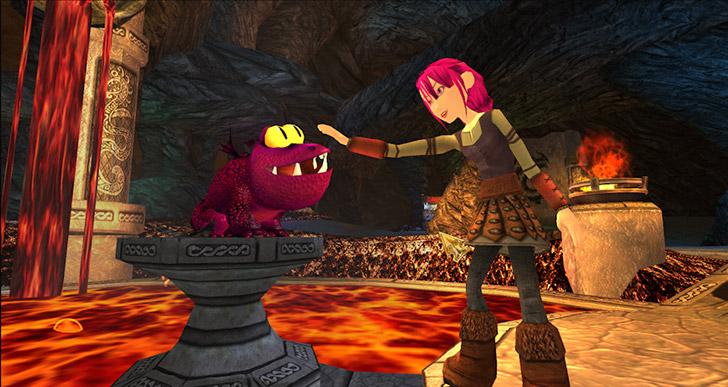 Features
Features:
• Challenge quests with your friends such as Toothless, Hiccup and others from franchise named How To Train Your Dragon.
• Users can become the ultimate dragon trainer by training more than 30 dragons with a Stormcutter, Toothless, Flightmare.
• Enjoy the vast world of Berk beckons you with other game like Viking Racing, Fireball shooting and more.
• There are two basic elements which are farming and fishing for Viking. You can customize and style your own farm with essentials like animals, crops, decor and more.
• Remember to fish the depth of the seas that surround the School for new and different species.
• You can create your own avatar and customize its appearance using multiple options based on your own requirements.
• There are more than seven different lands for you to explore. Therefore, you can experience something new every day.
• Users will get rewards and glory if they race their dragon against dragon trainers around the world.
• Play School of Dragons on multiple devices including your mobile and computer. It offers users a cross-platform gameplay experience.
Note
Users can use the in-game currency to unlock different features of School of Dragons, such as game content, consumables, and customization options. How to get currency. You can challenge the game to get currency through the gameplay or achieve it by purchasing. If you don't want to purchase, you can also lock the ability to purchase by disabling it through the settings.
People also like
Reviews
Can you please fix it?

by ashley

I love the game and my dragons, but I can not get the game to load sometimes and it freezes if I actually get pass the loading. I really want you to fix it because I have not seen my dragons in about 2 months. Please Fix! I want to see my dragons!!!!

Addicting

by Danielle

I absolutely love this game, it's very addicting but there's so many bugs sometimes! I cannot open the store on my laptop so when I have to make purchases I have to log out on my laptop and switch to my cell phone. Also, there's been times where I've "lost items" during a quest and have had to wait for forever to finish the quest until it decides that I some how got the items back. I've also bought a bunch of clothes (that cost diamonds so out of my own money) to go into that cave in ice storm island and it's still saying I need warmer clothes, I finished a mission thinking it would give me clothes, but nope, never. I'm so confused! But it's probably the bugs again. There's also glitching when I fish and play with my dragon and give her dragon nip. Not all of these are huge problems but it's a little aggravating that these aren't fixed considering I've spent my own money on this game. Otherwise, I can't stop playing here lately, it is a LOT of fun and I normally never write reviews!

not many islands for non members

by kayra

honestly the game is fun but need more islands for non members, it doesn't seem fair that non members must be limited but paid members get to have all access and enjoy the rest of the game. what's the point of having non members and paid members? its bad enough gems are hard to get to unlock the islands try at least make it a bit easier for non members to get gems to unlock the islands especially the stable at least give three or four rooms instead of two since players are getting dragons and the hideout only get free when your a paid member that doesn't make sense.

Very Fun!

by David

I joined the School a week or two after it came out for public. It has come a long way from the bugs that is had (I know that there are still bugs after every really neat expansion and addition, but it's worth it because they fix the bugs quickly and their customer support is great) and has expanded to a lot more than it used to be. It was really fun back then, and it is REALLY fun now. But please make recently added areas free and not in-game purchases!

Five Stars

by Lindsay

As a huge How to Train your Dragon fan I was thrilled when I found this game, however I was worried that it would be extremely glitch do to how complex they had made it. I am very happy to say I was wrong, this game has the average amount of glitches but nothing that I couldn't find a way to work around! It is extremely detailed and has every dragon to ever show up in any of the How to Train your Dragon movies and everything related. This game is by far my all time favorite game and I have played hundreds of games. Although it hasn't loaded for some you can get it on other devices so please don't miss the opportunity to play this amazing game.

Excellence

by T

This game is cute, fun and relaxing. For young and old. For those who want to play a fun game who are tired of overwhelming hardcore MMOs. Any game has its kinks which most devs of any game online are always working hard to fix asap.

great game BUT

by Molly

I love this game but NE tiny glitch or crash will ruin it all and the custermer support is AWEFUL and barely dose anything it takes days for them to reply and then they say they will look into it and keep you updated its been five days of no reply form the support team spend your money on a game that wont destroy itself in one quick glitch its a cool fun game otherwise and I love it dearly