Description
The famous Super Lame Games Company released a super not-lame mobile game - Smile Inc in which players are required to get through the dangerous work they accepted for money by dodging various obstacles and traps like electric gates, chainsaws and so on.
This new game actually comes from Roman Atwood, one of YouTube's most popular creator. As an endless runner game, it's different from other similar games for the character you play as starting the mission from the office. With more than 50 missions to proceed, mystery boxes to open, new missions every day and special holiday events, most players find themselves enjoying the game very much.
The game was designed with a cartoony voxel graphics, simple auto-runner gameplay and a fresh story of the character running through a dangerous office environment. Since there's no affluent information for beginners, let's go through some basic operations of this game.

Android

Iphone
Information
User-rating:
4.9 ( 2462 Reviews )
Screenshots: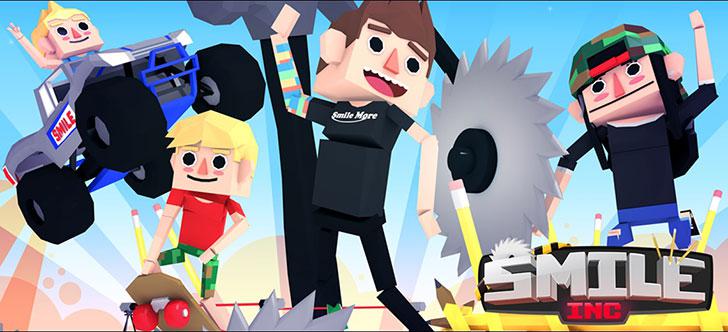 Features
Getting started
By tilting your mobile device accordingly, the character will move left or right. Other forms of action like moving forward, jumping, will be initiated by tapping the screen. If you find it's tiresome to tilt your phone, there's a switch to joystick controls in the settings. You should try your best to avoid all kinds of dangerous obstacles.
Unlock characters
All the characters in Smile Inc are categorized into three levels: common, rare and legendary. Jump, roll, sneak and double down are the four abilities the characters are equipped with, and each character comes with only one ability. Their powers and abilities are mainly decided by the levels which means it's better to get the rarer ones. You can either buy the characters with money or acquire them by unlocking mystery boxes which can be obtained after fulfilling missions or simply paying 1000 coins.
Try to survive
Among all the dangerous obstacle you have to avoid, some deadly traps are calling for particular attention - the red lines and the danger marks on the ground. No matter how well you've played before, one wood chipper can easily chop you in half.
To save you from emergent situations, there are some power-ups provided. Helmets protects you from big hit, Coffee mugs increase your speed.
Coins of the different color will give you different points. You can get one point from a blue coin, 5 points from green coin, and 10 from yellow coins.
Note:
It's free to download the game, but players may tend to use the in -game purchase option to buy stuffs for a faster progress in game.
People also like
Articles
Smile Inc. Dental Surgeons

Smile Inc Dental Surgeons is a Dentistry Clinic with Somerset, Singapore. Wansana more. The clinic is visited by doctors including Dr. Tan Sek Ho Ernest Rex ,Dr.

Smile Increases Your Face Value

"Smile! It increases your personal own face value." - Truvy Jones from Steel Magnolias (1989).Image here.