Description
Warning: Users can download the app from the links of Google Play and AppStore offered in the following articles.
Grand Theft Auto: San Andreas - an action game with role-playing components set in an open world environment. Developed by Rockstar Games, Grand Theft Auto: San Andreas has the biggest release on mobile games featuring San Andreas and three major cities.
San Andreas has the core gameplay of two elements - a third-person shooter and a driving game. Players can walk, run, swim, climb, jump and sprint as well as use kinds of weapons and arms. Besides, players can also drive various vehicles like bikes, motorcycles, boats, trains, tanks, helicopters, automobiles and more.
With more than 70 hours of gameplay, Grand Theft Auto: San Andreas takes place in Las Venturas, Los Santos, and San Fierro. It provides high-resolution and well-designed graphics. And it improved some features like lighting enhancements, color palette, and character models especially for mobile devices.

Android

Iphone
Information
User-rating:
4.6 ( 2000 Reviews )
Screenshots: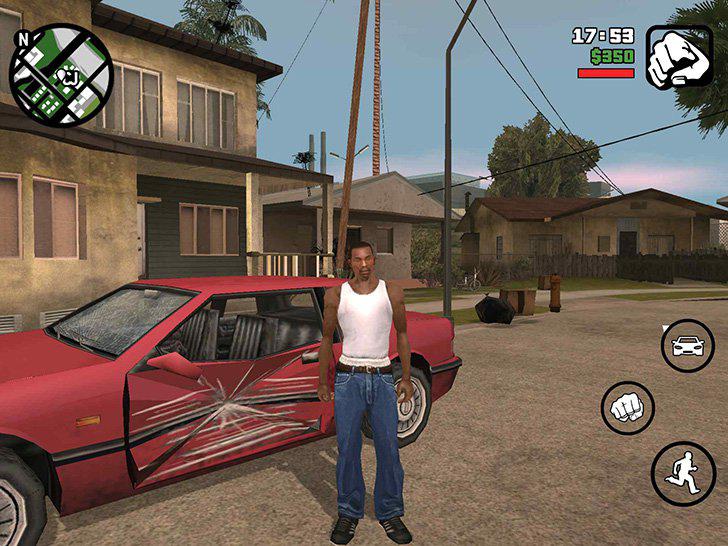 Features
STANDOUT FEATURES
✯ Support multi languages include English, Spanish, German, Italian, Russian and Japanese.
✯ Players can save all their data across all the mobile devices with Rockstar Social Club Members right on cloud.
✯ High-resolution graphics designed for mobile devices as well as improved character models and lighting enhancements.
✯ Grand Theft Auto: San Andreas have three different control schemes with contextual options for players to customize and display buttons when necessary.
✯ Players can adjust the graphic settings to experience the visual effects. San Andreas is compatible with MoGa Wireless Game Controllers and combined with Immersion tactile effects.
NOTE
✯ Users can reboot your device after the download for optimal performance.
✯ New features like Gang Wars, Burglary, Money, Minigames, Car Modification and Multiplayer are added to the new update.
✯ If you have any questions about the mobile version, please visit wardrumstudios.com to find information. Or visit rockstargames.com to get more excellent gameplays.
People also like
Reviews
Cheats?????

by Mayskilla

I love the game, but you have to add cheats, just like in the mobile version, add a 99 cent app or something, just give us cheats, makes the game better, and people would purchase more of it

If you played the steam version: READ BEFORE PURCHASE!

by James

This is intended for mobile devices, so many features from the PC version of GTA:SA has been removed to be optimized for mobile. The PC version was ~4GB while this is 1.4GB, so a lot of content is cut out. - Controls are significantly different, even for gamepad. It's suggested that you fix the controls after installation. - Cheats are not here. - Saves from PC version can't be loaded here. - User track player station isn't here. - Graphics settings are harder to change. The resolution option is a percentage, why?! - Menus are different, sprites are different. Some pros about using this version are: + Rockstar Social Club is enabled, so your save can be in the cloud. + The menus have a more HD feel. + Takes up less space, good if you have a Surface Pro (or regular 3) tablet that has low storage. + Cheaper alternative.

Thank you for taking me back to 2006

by Marquie

This game is great I've had no problems, and some feature that were cut from the original game are in this one. my only complaint is that some cheats would be nice. either way I love it its still the best gta ever.

Lots of fun, but crashes frequently, no cheats

by Janey-Ali

GTA is a LOT OF FUN! It will keep you playing for months! Cheats aren't activated in this version tho. This game would be much more fun with the cheats on. Also, it crashes often, on multiple devices. It just kicks you out and you lose all of your unsaved data. It's very frustrating when in the middle of a mission.

I LIKE IT!

by Naomi

I like this game, fun to play. And its really good on laptops. I don't think theres anything about I don't like. but sometime when I load the game it doesn't work and idk how to fix it but other wise its a good game.

Great game, compatible w/ Windows 10

by Savannah

I have really enjoyed the GTA franchise, then rockstar released the mobile versions of the popular games which I think are better and a little more secure when it comes to mods and cheats, I don't approve of cheating. Anyways, The reason I wanted to post was because this game is also compatible on my 2009 windows vista pc that I upgraded to windows 10. This computer isn't what you would call good, or even decent...but, it works. It has AMD Vision W/Radion dedicated graphics card and 3Gb Ram shared. The game works just fine on regular quality graphics (which look pretty much the same except for the mirror like finish on specific surfaces).
Articles
About Grand Theft Auto: San Andreas