Description
Welcome to the Marvel: Contest of Champions! Developed by Kabam, the app is a kind of free-to-play mobile fighting game published on December 10, 2014. Set in the Marvel universe, users can enjoy the greatest battles in the history of Marvel.
Players can play as the classic Marvel characters like Spide-Man, Iron Man, Hulk, Wolverine or the villains like Rhino, Magneto and so on. Each character has its own powers, abilities, special moves and traits. Players can totally enjoy the fun of their characters in Marvel: Contest of Champions.

Android

Iphone
Information
User-rating:
4.7 ( 2492 Reviews )
Screenshots: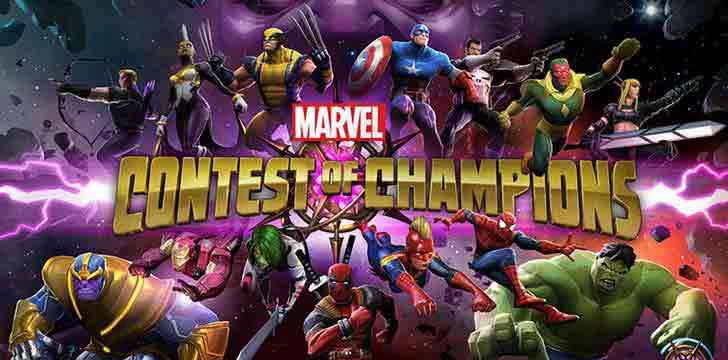 Features
Features:
★ Unlock new Champions by earning 5 star crystal shades.
★ Enjoy battles between Iron Man vs. Captain America, Drax vs. Deadpool, and Hulk vs. Wolverine!
★ Collect and level up your heroes and villains to gain bonus rewards.
★ Build a mighty team of so many heroes and villains with friends and other Summoners to assemble the strongest alliance!
The game now has 56 characters including: Abomination, Black Bolt, Black Panther, Black Widow, Colossus, Cyclops, Daredevil, Darren Cross, Deadpool, Doctor Strange, Drax the Destroyer, Electro, Elektra, Flash Thompson, Gamora, Green Goblin, Guillotine, Gwen Stacy, Iron Fist, Iron Man, Jane Foster, Jessica Jones, Juggernaut, Kamala Khan, Kang the Conqueror, Loki, Luke Cage, M.O.D.O.K., Maestro, Magik, Magneto, Miles Morales, Moon Knight, Ms. Marvel, Punisher, Rhino, Rocket Raccoon, Ronan the Accuser, Scarlet Witch, Scott Lang, She-Hulk, Spider-Man, Star-Lord, Storm, Super-Adaptoid, Thanos, The Collector, The Hulk, The Red Skull, Thor, Ultron, Vision, War Machine, Winter Soldier, Wolverine, X-23,
People also like
Articles
About Marvel: Contest of Champions