Description
Developed by Perfect Tap Games, Chicken Scream uses your voice to control the chicken's movement while avoiding various obstacles and collecting coins at the same time. In other words, you need to produce a moderate amount of noise to make it move forward and shout loud when you want the chicken to jump.
It is no doubt a fun, addictive non-tapping game suitable for everyone. The chicken cannot go backward, but you can make it stop by staying quiet. To earn coins and unlock new characters, you need to keep playing the game and spin the virtual wheel of fortune to get some extra rewards. Chicken Scream is completely free with no in-app purchases provided, so you cannot purchase your way to unlocking all characters.

Android

Iphone
Information
User-rating:
4.8 ( 2322 Reviews )
Screenshots: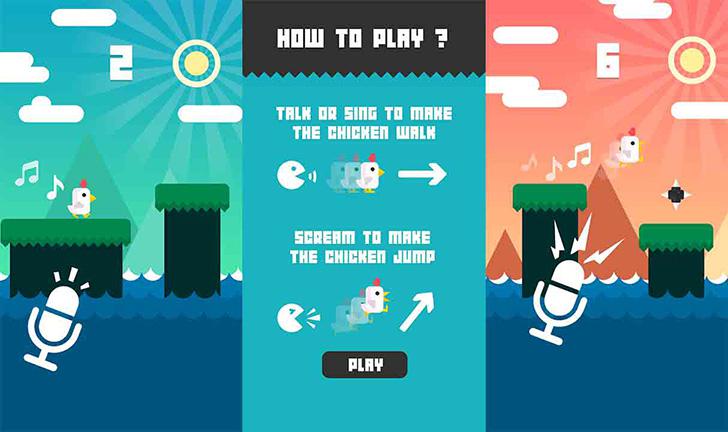 Features
Tips and Tricks
Humming to make the chicken move forward
You don't need to make a loud noise constantly in order to make it move forward because slight humming can do the work.
Tapping on the microphone part to make it jump
Screaming is not the only way to make the chicken jump, tapping on the microphone part of your phone can also make it jump. For people who worried about their voice status, it's a good solution. Also, you need to tap the part multiple times to jump over multiple obstacles.
Blow into the microphone
Apart from humming and tapping, you can also blow into the microphone part to make the chicken move. If you blow softer, it will walk forward, and if you blow harder, it will jump. There's only one thing to remember - turn the sensitivity on the microphone down. High sensitivity will make the chicken jump even if you blow it softly.
Note
Chicken Scream is certainly a laughter maker when you paly it among a small group of people. The game adopts fairly new and interesting gaming ideas. You can always open the game when your parents or your boss is screaming at you. Just kidding and have fun!
People also like