Description
The Sims Mobile is a life simulation game developed by Electronic Arts that is available for both iOS and Android devices. Published on March 6, 2018, The Sims Mobile contains excellent story elements, and it is a multiplayer game.
Players can create unique Sims with the in-game character creator, build their own houses, decorate the home with different designs and control their lives. Players can make interaction with other players' Sims, like attending their parties or rating them since it is a multiplayer game.

Android

Iphone
Information
Last-version:
9.2.0.144308
User-rating:
4.5 ( 2083 Reviews )
Screenshots: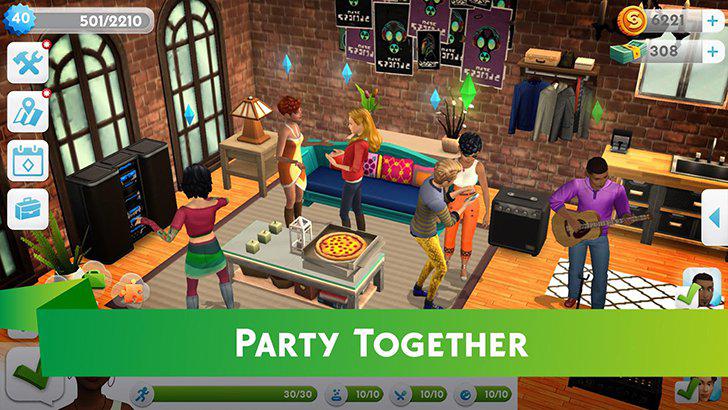 Features
Gameplay
❍ Create unique Sims
Here in this game, players can create their own Sims and make them unique with good appearances, outfits, hairstyle, and accessories. There will be endless possibilities for players to show on Sims from nose to toes. Besides, players can also train their Sims to be of some type, such as Active, Musical. Whatever they are, they must be trained with more life experience.
❍ Build a perfect house
Similar to our life, players can also create a house which is personalized with beautiful designs and layouts for their Sims. Here their Sims can enjoy whatever they want. And the house will be full of stylish furniture, decorations or themed collections. After that, players can take their Sims to find some awesome places, like nightclub, restaurant to enjoy themselves.
❍ Shape Sims' lifestyle
In The Sims Mobile, users can also guide their Sims to challenge themselves, such as to develop their hobbies, to experience the career changes and more. The players can also help their Sims choose their careers like Doctors, Designers or Cook. The Sims may start a family as the time goes, and create a great future with their relationships by passing through a variety of difficulties.
❍ Play together
In the virtual world of The Sims Mobile, players can socialize with different people by hosting and attending parties with each other. The sims you've created can join with other sims to develop a romantic relationship and decorate their house. Meanwhile, to interact with other sims can also be a method for them to know if your sims are Hot, Cute or Fabulous.
People also like