Description
Developed by Miniclip.com, Plague Inc. is a real-time simulation game mixing strategy with terror. Game players will create and evolve a horrifying, global pathogen to fulfill the duty of destroying the world and human history.
Plague Inc. is available both on Android and iOS platforms. It has been downloaded more than 85 million times and will continue to thrive. With a complex and realistic setting, the game simulates the severity of the plague vividly. It's You against the world - only one can survive!

Android

Iphone
Information
User-rating:
4.6 ( 1583 Reviews )
Screenshots: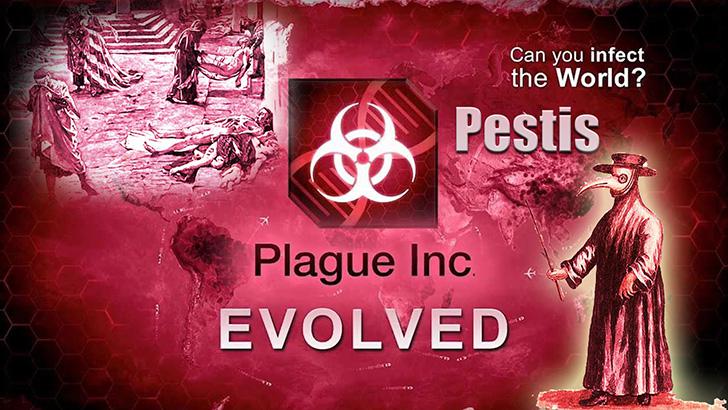 Features
Features
● Stunning HD graphics - Full 3D disease models, city-cams, and body scanner shows the contagion on human body organ by organ
● 12 Different Disease Types - different diseases need radically different strategies to master. The player will start with bacteria, and subsequent pathogens can only be unlocked by winning the game with the previous one on Normal or Brutal Mode.
● 20 Unique Scenarios – Different scenarios including Swine Flu and Ice Age give players more challenges.
● Multiplayer Mode - The world is infected with two plagues, but you need to dominate the world with your plague, so destroy the opponent!
● Hyper-Realistic World – With advanced AI (Outbreak management) and real-world data and events, the game is a highly authentic simulation.
● Tutorial System and in-game Help
Behind the game
The developer of Plague Inc. has said it is "a bit like the film Contagion except you are on the other side". It's actually inspired by Pandemic 2, according to the developer.
People also like
Reviews
Strategy To Win+Review

by Ian

Step 1:Infect the whole world by upgrading air and water transmission. Step 2:Upgrade all lethal and fatal symptoms. Step 3:Wait. Step 4:Congrats you have won! Also this game has great game play and amazing graphics. I also love that they finally updated so there are the expansion packs for special diseases. I love that you can earn everything without a purchase further within the game. Great game, Can't Wait for more expansion packs!!!!

by Valor

Good game. Spent the money and had fun for a couple weeks. I spent too much time playing, very addicting. I feel like I got my dollar worth. Only bad part is there are no new updates. So once you reach a certain point you are kinda done. [UPDATE 06/03/2015] I received a response from Ndemic Creations and expansions are coming. As long as there is support for this game updating and making play more awesome, 5 stars! Btw, I have a Nokia Icon and have never had any glitches or crashes. [UPDATE 07/01/2015] New updates are awesome! Will now become more unproductive due to hours of new gameplay.

Good game

by Zack

Good game, fun, slightly challenging, and everything is unlockable without paying beyond the initial purchase price - definitely a plus. There are sometimes issues with functionality; I have had to reinstall and start from scratch, but I enjoy the game.

Amazing Game

by Andrew

Been playing it for years. My only wish is that I could import all my progress from Google Play instead of starting over from scratch.

by Wesley

Runs great on device. Enjoyable experience. I would love to see it linked with Xbox and get Xbox achievements.

by Richard

I love this game. Spent many hours playing through all the different plagues. I am always entertained. I like to name my plagues after old companies I use to work for in the past. I am glad it has made it to Windows Phone as its probably one of the more entertaining ones out there.