Description
Developed by Game Circus, Taps to Riches is a new clicker game where you tap all the way to make money and build an empire. It's one of the best games for people who are feeling down or have plenty of idle time to kill. In this game, you are enabled to build stores, supers, malls with the money you earn and once you get enough money, all of the buildings can be upgraded into larger-size architectures.
There also several ways to help you get an extra bonus like upgrading your business value, expand your territory and earn money. Watching ads, tapping your house and hiring the valuable Advisors and Bizbots will all earn you an additional bonus.The game now is both available for Android and iOS users without any charge.

Android

Iphone
Information
User-rating:
4.3 ( 2360 Reviews )
Screenshots: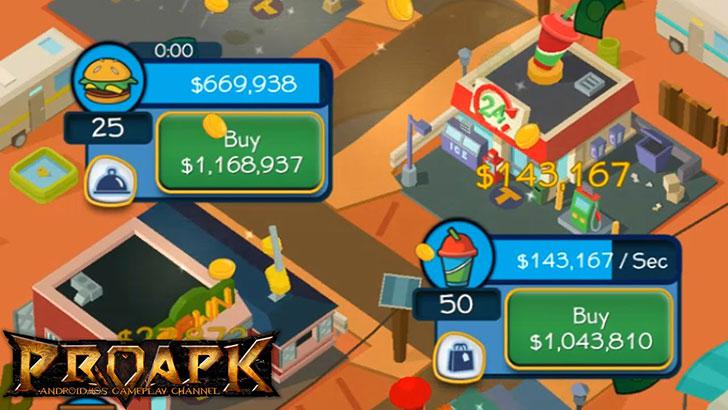 Features
Features
- Build, upgrade and expand your empire
- Every store, mall, supermarket you build can be upgraded to skyscraper
- Tapping your new house will also get you extra money
- Valuable Adviser who will offer you additional bonuses show up randomly, and make sure you get them all!
- Ads may not be so annoying this time because watching them will double the bonus
- Fill The milestone bar will earn you a speed bonus.
- More features to come!
Tips and Tricks
☻ Unlock and choose the most profitable advisor!
As perhaps the most important asset in the game, more than 100 Advisors can be unlocked by opening the crates or buying with gems. But you can only use three of them at a time.
Though there are various types of bonuses covering additional money per tap, a lower cost for building, and a boost for business type, you must be aware that these Advisors are often limited to a certain region in the game. If you are currently working in one region, you'd better turn off the Advisors who are assigned to another region.
When you are tapping it, you need an Advisor to increase earnings per tap. When you want to log out, you may switch the Advisor with someone who profits you each time you are logged out.
☻ Get more money by tapping new house and watching ads
You can tap on a new house to earn money every time you unlocks a new area. The money you get by tapping the old houses is a little bit more than when you tap the new house.
Ads are annoying, but if you want a faster upgrade, just put up with it!
People also like
Articles
Taps To Riches Max Level

How do you get business bonuses and what's that maximum level each business will be raised . Oct 28, 2016 - Here are much of this Taps which can be able which can Riches tips and tricks!.

Taps To Riches Bizbots

Mar 8, 2017 - In Taps To Riches, not only can you earn profit, Gems, and Advisors, but you can also get some helpful little buddies called Bizbots! Bizbots are .