Description
BuzzVideo is a free short video application which delivers users videos based on their preference. It gives users access to unlimited exciting videos and fasted updated videos. BuzzVideo will be a perfect free video app for users to kill their time since it allows them to watch videos without any limit.
With BuzzVideo, users can get updated with a variety of topics, idol videos, entertainment news, TV programs, movie trailers and more. It can be available for both iOS and Android devices. Download it to enjoy your favorite videos now!

Android

Iphone
Information
User-rating:
4.7 ( 336 Reviews )
Screenshots: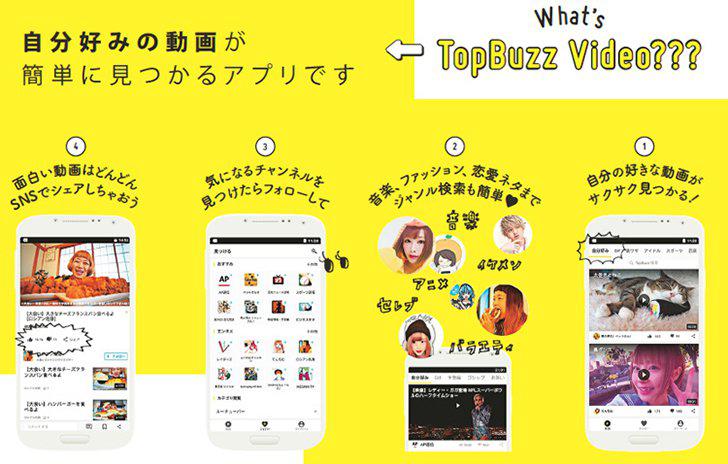 Features
Features of BuzzVideo
✤ Just one tap to enjoy videos
With only one tap, users can find their favorite videos and GIFs without scavenging the Internet or flipping any TV channels. Meanwhile, BuzzVideo offers users a variety of categories of videos and enables users to stay up with the latest live events. Users can see everything they want all in one place. Download it to save your favorite videos, GIFs for fun now!
✤ Funny Videos & GIFs
There are thousands of gifs on BuzzVideo which you can share on social platforms like Twitter, Facebook, Instagram, Messenger, etc. With BuzzVideo, you can dive into your favorite videos and laugh with thousands of users. It enables you to have the best experience without any distractions by darkening the background. With the BuzzVideo's enhanced video player, you can rotate and navigate through your videos easier.
✤ Personalized Feed
BuzzVideo has whatever you want whether you're a lover of GIFs, TV addict or video binger. It aims to recommend the latest videos and trending GIFs based on your tastes. All the features that BuzzVideo offers are free.
✤ Best viral content online
BuzzVideo provides users the best viral content online since it partners with the best content providers. The tool which named State-of-art artificial intelligence delivers only the best content from their partners directly to you. With this application, you can keep updated with what the trends and what's happening around the world.
More categories later
Popular category: My Preference, Comedy, Idol, Surprise, Gossip, Trailer, Back Wow, Funny, Sports, Love, Fun, Car, Animation, Music, Make and more. Furthermore, users can enjoy more hobby categories like mah-jong, fighting, baseball one after another.
People also like