Description
HTC Vive is a virtual reality platform developed by HTC Corporation for total immersion in the virtual world. With HTC Vive, users can get notifications of the virtual reality world just by connecting their phones with it. It won't interrupt you if there are any notifications about phone calls, text messages or even calender events.
There is a Vive tab on the system Dashboard, with which you can read all text messages, send quick replies, respond to the missed call freely. Besides, this app is available for both Android and iOS devices. Download it to enjoy the virtual reality world now!

Android

Iphone
Information
User-rating:
4.7 ( 2080 Reviews )
Screenshots: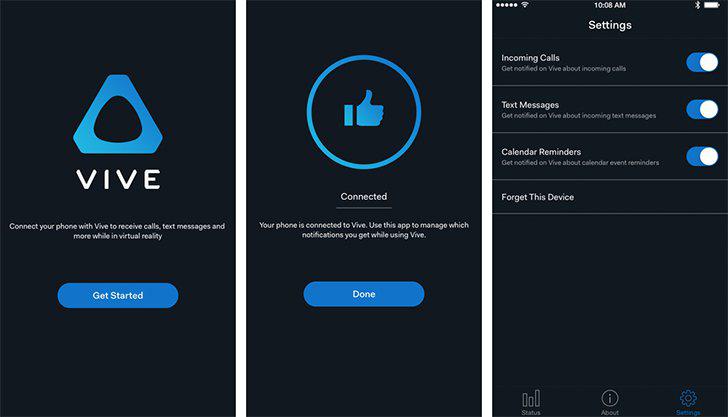 Features
Featuers of HTC Vive:
• SteamVR Powered - Users can enjoy more than 1500 games for SteamVR, including everything you like on Steam, such as automatic game updates, new releases and millions of your closest friends.
• Fully immersive - HTC vive offers users the precise and 360 degree controller and headset tracking, which means the realistic movement and actions in the virtual world.
• Great scale stage - Users can teleport around boundless virtual world just sitting at the desk or they can physically walk around by creating a dedicated play area. SteamVR tracking
• Play safer - The Chaperone offered in this system enables users to know the boundaries of their play are, thus they don't need to worry about the real world and just stay immersed in VR. With the front camera, users can walk freely without taking off the headset.
• Free trial - Users can choose to sign up with ViVEPORT online or through the desktop app to get a free trial. Meanwhile, they enjoy the lowest price each month for picking 5 VR titles.
People also like