Description
9GAG: the best app to have fun. 9GAG makes your every single minute happy and fun.
You can access to millions of funny pictures, memes, videos, and GIFs. You can find unstoppable hilarious videos and awesome community with comments.

Android

Iphone
Information
User-rating:
4.1 ( 1802 Reviews )
Screenshots: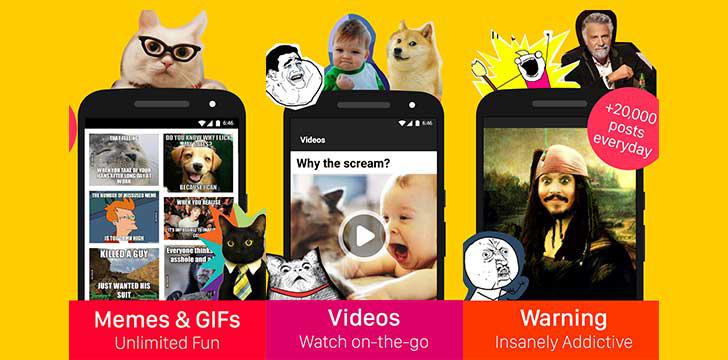 Features
★ With more than 20,000 posts everyday, you can be insanely addictive to this funny app.
★ Loads of memes and GIFs bring you unlimited fun and laughing.
★ Watch the most popular videos on the web, getting to know the best things trending around you.
★ Explore all topics from Sci-Tech, NSFW, LOL, FAIL and everything in between.
Why you need 9GAG?
1. Lol yourself. Life is all about happy. And 9GAG provides tons of fun and joy that can make you smile.
2. Lol with your friends. Happiness can be much happier when you share them.
3. Life is easy, take a break and check out 9GAG.
9GAG Honors
▸ Best Apps of 2014 (Entertainment) - Google
▸ The Nobel Prize in Humor or Entrainment 2015
People also like
Reviews
by Lucas

Hey Rudy, 3 things to improve: (1) Fix the comments section. Since the 9Gag site's API changed (I think that this is what happened), I can't comment, because if I try to, there will appear a big error message. I can't upvote comments from other users too, because when I try, the app simply crashes. (2) When I play .gifs, they simply don't show. It's a black screen. And this even pauses the music, bro. (3) Make a new way of scrolling, just like the 9Gag site is: vertical scrolling. But with that functionality that we love so much of this app - the "Continue Where You Stopped". Thanks for making this awesome app, keep updating it, please :) (I'm running the 9Gag app on my old Lumia 720 on WP8.1. The app is on version 2.9.2.0, of Sept. 3, 2016)

by Kevin

Awesome app!! Really. Would've rated it 5 stars but there are a couple of issues with GIFs, if you're listening to music and then press play on a GIF, the music stops. Also, being able to download GIFs in GIF format would be great.

by Joel D.

Best 9gag app I've ever used. Only problem is that comments aren't even loading anymore. Would be nice to be able to comment again. Praise the Great Gilded Curvation, Potate.

by Jessica

Love it! It's one of my favorite apps! But it crashes after 3-4 posts, and I have to re open it over and over again. I still can't post comments or upvote other comments, either.

by jesus

It is the best option for windows phone but after the last update I can't comment anymore please fix it