Description
Panda Pop allows you to work your way through sorts of levels and rescue baby pandas. Users need to match bubbles to help pandas out of the evil baboon that kidnapped them.
The game provides more than 1000 levels with various challenging obstacles with fantastic powerups and combos. The game is well-designed for its stunning graphics and beautiful animations.

Android

Iphone

Windowsphone
Information
User-rating:
4.5 ( 1935 Reviews )
Screenshots: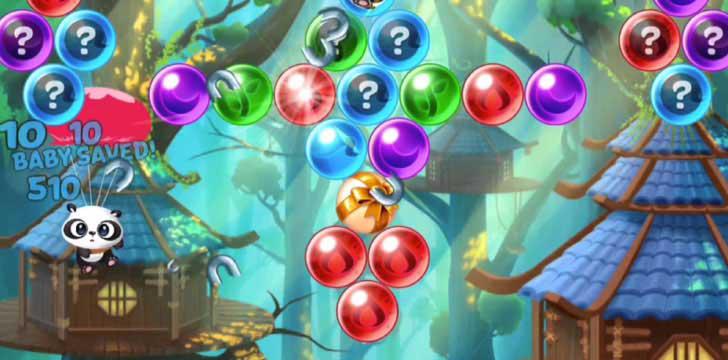 Features
Top 10 Tips & Cheats to Play Panda Pop
➠ The most important thing is to save the pandas.
➠ Improve your aim before shooting the bubbles.
➠ Remember the achievements while playing to earn bonus.
➠ Master the color-changing bubbles: they change colors in repeating sequence.
➠ Take the Spiked Balls to your advantage.
➠ Connect to Facebook and ask your friends to give you extra lives.
➠ The walls won't affect your bubbles' bounce, so try to learn how to angle your aim.
➠ Look carefully at the game loading screen and memorize the future layout. You can even take a screenshot if necessary.
➠ Take use of the power-ups before tossing the bubbles.
➠ Combine your power-ups skillfully.
Connect Facebook to play with your friends, and sync all the game data on different devices. Panda Pop is free to play, but some in-app items can be charged for real money. Enjoy Panda Pop and get exclusive rewards now!
People also like
Reviews
by Kay

Cute and fun, if a bit laggy. Occasionally has minor glitches in-game and sometimes freezes on the loading screen.

by Sumaiya

Why can't I log into facebook!?!it lags sometimes.if u fix this,u deserve a 5!please update!otherwise cute and fun game!

Fun and addicting!

by Kathy

Mostly like that's it's more of a puzzle and less of speed and action.

by Brittiany

I give the app 5 stars because the game itself is super fun and addicting, but I recently changed from a Samsung to a Microsoft Lumia, and there is no option to connect to facebook. I followed your instructions, but I still can't connect. Sadly, I've lost all my progress and went from nearly lvl 200 back down to the beginning. :(

by luke

Love the game but you only get 1 star from me for one reason. I sent and email to your customer support and asked why no facebook connect. The reply back was, "your windows phone does not support facebook connect" which is a lie and I don't like to be lied to. It's called laziness on your part. So 1 star for you. Stop lying to windows phone users. Uninstalled

by Christopher

Fun game! Super glad it came to Windows Phone! However, minus two stars since it lacks Facebook integration while other platforms have it (iOS, Android). Please add so we can save our progress!