Description
Brain It On is a challenging physics puzzle game containing 100 levels grouped on 20 pages for users to solve. You may earn up to 3 stars by solving each puzzle with which you can unlock many pages. If you prefer a quick process, it will cost you $0.99 per page by purchasing.

Android

Iphone
Information
User-rating:
4.5 ( 1493 Reviews )
Screenshots: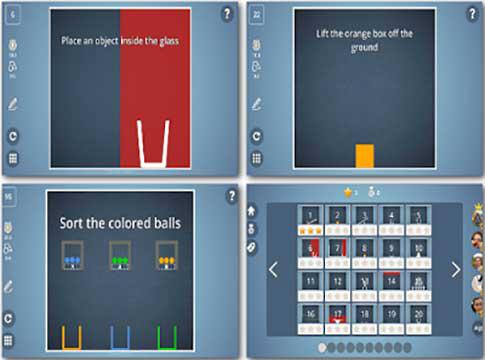 Features
Each level of the game has a specific objective. It's up to you to think of a way to achieve the goal by drawing various shapes on the screen. Every time you solve a puzzle, it will progressively get harder. The key to this game is to be patient and of course smart!
Features
◆ Hundreds of brain busting physics puzzles and it will keep updating with new ones.
◆ Compete with your friends!
◆ Various ways to solve each puzzle, can you find the optimized solution?
◆ Share your unique solution and compare it with your friends' version.
◆It is free for you can unlock them with stars you collect from every puzzle. You can also choose to buy packs if you want to unlock them immediately.
Note
It is a fun physics puzzle game that will help exercise your gray matter. Eventually, you'll beat all the levels and uninstall the game, but before that, it's a pleasure to be your company.
People also like