Description
The new player of Candy Crush Jelly Saga is in town - play with Jelly Queen now! Play yourself as Jenny, and show off your beloved movies and switch candies against the Jelly Queen.
Every step of your movements will spread more jelly and the one that the one who get the largest numbers will win! With new candies and a new booster appearing in the Candy Kingdom, you can enjoy a dream treetop world of sweet candies.
Candy Crush Jelly Saga has more than 100 Jellylicious levels and with a new Jelly Queen Boss mode. Users are free to play the game, but some in-app items may charge real money. Are you ready to get the moves to defeat the Jelly Queen? Download it now and enjoy!

Android

Iphone
Information
User-rating:
4.3 ( 2054 Reviews )
Screenshots: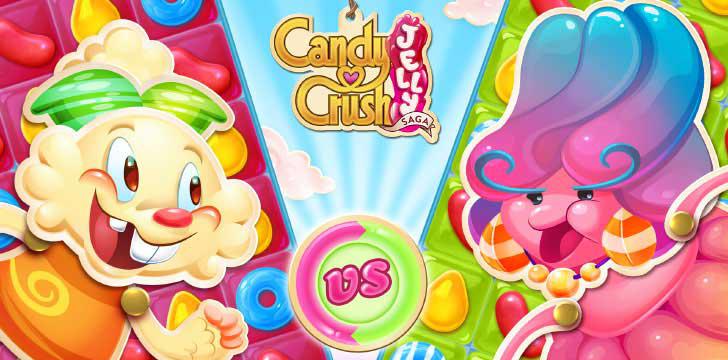 Features
Something about Candy Crush Jelly Saga
★ You can play Candy Crush Jelly Saga game on Android, iPhone, iPad, and even Windows. Invite your Facebook friends to play with you, you'll need their help during the game.
★ The game is free to play, but some items in-app may need to paid with real money. You will get a hint before purchase.
★ How to play:
➠ Match four in a row;
➠ Match four in a 2×2 square;
➠ Match five in a row;
➠ Match five in a T-shape;
➠ Match six or more.
★ Candy Crush Jelly Saga provides two modes: Jelly and Boss. You must be quite familiar with the former while the latter can take a little thinking and some skills.
★ Players need to find the Pufflers, which are especially crucial when you play against the bosses.
Candy Crush Jelly Saga has more than 5 million users just in one week after its launch. The game is obviously addictive and interesting as the older ones King have published. We are sure that you can have a magnificent time enjoying the game.
People also like
Reviews
A new game and for windows

by Alexander

Even though I never be able to finish candy crash nor soda crash, but thumbs up for supporting windows.

WAY too small

by Lyriel

The size is really an issue -- mobile does not transfer to the PC without resizing by the creator. Also find that the disappearing worms get to be quite frustrating. I don't play to be frustrated -- I play to relax.

It's fun until it's not

by Unknown

I love a good challenging game. Loved this one up until level 140 where I've spent well over a month on and off trying to beat it. Can't, now I'm just bored and frustrated with it. Sorry King, I'm not going to "buy" my way past it just to get stuck on the next impossible level.

Each update breaks more things

by AntiSane

Unless you want to get madder every time you play stick to playing this on your mobile or Facebook, the windows 10 app is insanely buggy. 1. Lives sent to you are rarely received in the win10 app. I see them in Facebook, or on my android phone, but RARELY in the win10 app. 2. Lives sent from you to Facebook friends are never received by them either. 3. Even if you disable the music it will randomly turnm itself back on, and they only way to make it stop when that happens to to completely restart the app. 4. If you win a game against an opponent (like the queen) on your last move it will sometimes tell you that you lost, even if you met the levels requirements. 5. If you play offline (as I do sometimes on my laptop) you then have to completely retype your login/password for Facebook when you go back online because the app never remembers it (soda saga does not have this issue, why does jelly saga?)

Nice!

by Montpbm

Thanks for supporting Windows 10 Mobile.

Screen Size???

by Garrett

This game is literally the copy and pasted version for phones. This is taking the easy way out and should be fixed ASAP for PC's. How is this even considered a PC version of the app and considered in the Windows Store??
Articles
About Candy Crush Jelly Saga