Description
Mou will guide a silent princess to pass through all the architectures and meet various stunningly beautiful worlds.
Monument Valley is inspired by 3D design, and every monument is worth exploring for its special and hand-crafted interface. And it's very easy and simple to use - just twist and drag to help Ida to explore the items and reshape the world.
The background sound is worth tasting and enjoying. Monument Valley provides a wonderful and surreal soundscape, and you'd better wear headphones to experience.
The game also supports for synchronizing all your devices with the game data. You can play it on both mobile phones and tablets.

Android

Iphone
Information
User-rating:
4.6 ( 2268 Reviews )
Screenshots: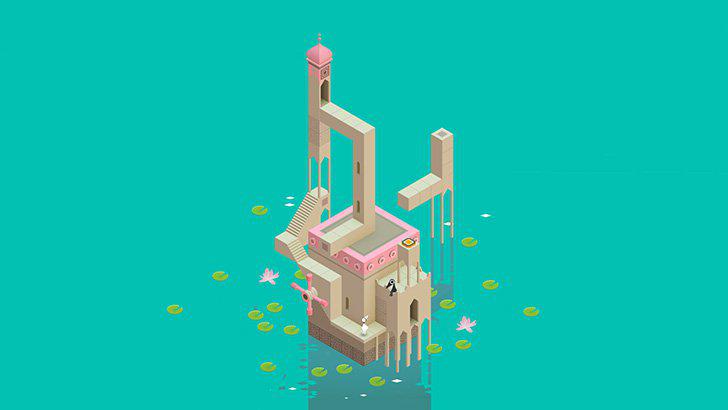 Features
Look at the awards it has won:
❍ 2014 APPLE IPAD GAME OF THE YEAR
❍ BEST MOBILE& HANDHELD BAFTA 2015
❍ BEST BRITISH BAFTA 2015
❍ APPLE DESIGN AWARD WINNER 2014
❍ ACHIEVEMENT IN ART DIRECTION DICE AWARDS 2014
❍ BEST HANDHELD / MOBILE GAME GDC AWARDS 2015
❍ INNOVATION AWARD GDC AWARDS 2015
❍ BEST VISUAL ARTGDC AWARDS 2015
❍ GRAND PRIX 11TH INTERNATIONAL MOBILE GAMING AWARDS
❍ BEST 3D VISUALS UNITY AWARDS 2014
❍ COMMUNITY CHOICE UNITY AWARDS 2014
❍ BEST OVERALL GAME POCKET GAMER AWARDS 2015
❍ IOS GAME OF THE YEAR POCKET GAMER AWARDS 2015
❍ CONTRIBUTION IN AUDIO DEVELOP AWARDS 2014
People also like
Reviews
by Byron

Beautifully designed game, challenging and relaxing at the same time! PLEASE add more soon, addicted now. :)

by Andrew

Beautiful game, and fun to play, but I'm a little disappointed at how short the game is for the price...

by Nic

Definitely well done. Very impressed. It's relaxing, artistic, and makes me want more!!!

by Jay

Elegant and addicting, would keep playing if there were more levels.

by Jacob

Beautiful game with awesome puzzles. I wish it had Xbox support, and it's a little pricey for just 10 levels and $1.99 for an additional 8.

by Griffen

Another victory for Windows phone!

by Brandon

Great game, but $4 for ten levels just seems obnoxious. I'm glad I used my Bing reward on this rather than actual money...

by Olavo

I love this game.... But this game is awfully short... I downloaded yesterday and I finished the game in less than 2 hours... I bought expansion pack, only 8 more levels...