Description
Developed by Ketchapp, Ballz is a casual fun game where users shoot a ball to break through many bricks with different numbers on them. The number on each block indicates that you must hit the block that number of times to make the brick break.
Ballz is available for free download and play on both iTunes and Google Play platform. Ballz does a great job in explaining the basics of gameplay and teaches you how to play. You need to know your angles, break as many bricks as you can, collect extra balls, and try to beat the high scores by setting up a chain reaction. As an easy but addictive game, Ballz mixes old-school Pong and Threes in one.

Android

Iphone
Information
User-rating:
4.8 ( 2496 Reviews )
Screenshots: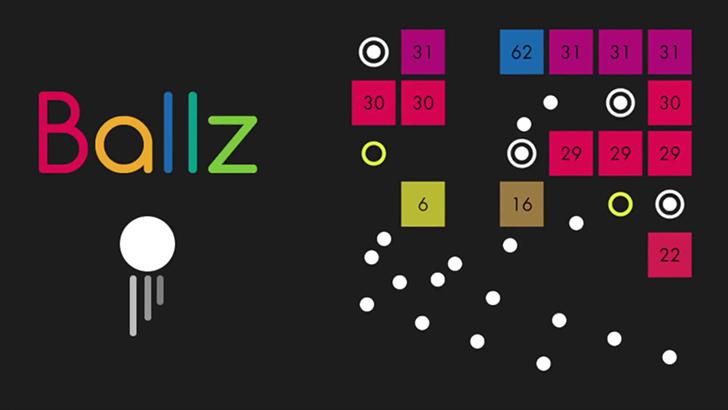 Features
How to play the game
✿ At the beginning, you will see a single ball at the bottom and some blocks marked with different numbers floating at the top of the phone screen.
✿ Pull back with a finger and release your ball at a right angle, hitting and crushing the bricks.
✿ The numbers on the bricks indicate the number of times the brick needs to be hit before disappearing.
✿ Try to break as many bricks as you can before they move down to hit bottom.
✿ The level of bricks will increase
✿ If your ball passes through white circles, you earn some extra balls.
✿ As you accumulating more balls, by using the geometry, you can form a chain reaction to break the groups which will get you higher scores.
✿ If you can hit through yellow globes, you will win rings.
✿ As you becomes better on this game, you can spend coins to unlock more new abilities.
Note
It's easy to play but very hard to master!
Many people find that the rule of higher level, higher difficulty doesn't apply to the game. Some particular rounds like Round 2 and Round 157 are tough to pass.
There's also a one-time $1.99 ad removal option for users who find the ads annoying.
People also like