Description
Walgreens - take your pharmacy with you. Refill prescriptions, print photos, clip coupons, and more!
The Walgreens App makes your life easier and better. The app is totally free to download. You can scan your prescription label now and we'll have them ready for you in an hour. You can get 500 balance rewards points for every refill!

Android

Iphone

Windowsphone
Information
User-rating:
4.8 ( 2085 Reviews )
Screenshots: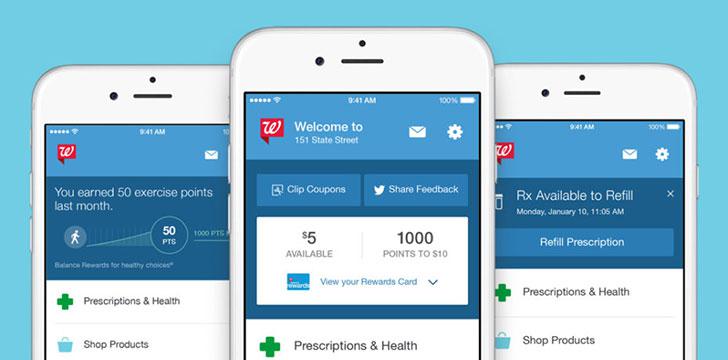 Features
With Walgreens App:
-- Customize photo cards with your own messages and photos
-- The app knows when you're in store and instantly prepare what you 'll need
-- Clip coupons with your phone and they'll automatically apply at checkout
-- Scan your Rx label and we can refill prescriptions in seconds
-- Set Pill Reminders that will alert you when you need to take your medicine
-- Locate a Walgreens near you and get specific store details easily
What's New:
-- Faster shopping experience with product pages and search results
-- Support printing 4x4 photo magnets
-- Redesigned Balance Rewards section, so you can see points, perks and card activity easily
-- Scan an Rx bottle and register to get full pharmacy access easily
People also like
Reviews
Works on all my devices but Win10

by Tristan

This is one of my favorite apps on iPhone and android. I can refill from account, by scanning, check in store prices, manage rewards. However, the Windows 10 version is completely useless as in cannot even sign in. I get a blank dialog with every attempt. Its so frustrating as I love this app.

Very Nice

by Cory

I like having quick access to all of my Rx and account details, and being able to order refills from any mobile device.

Walgreens is one my favorite stores

by Carmen

The people in the pharmacy have always been very helpful as I am on many medicines. The employees are friendly and attentive. I also like that I can order my medicines online. The Walgreens app makes getting into the sight convenient and easy.

Walgreens

by Mark

will not accept my user name or password. A small blank box comes up with the red ok in it. I push the red ok button and it takes me back to the sign in box.

GREAT SERVICE and Insurance CO. DICTATION/ GREED

by Elliot N.

I like knowing my pharmacist, and just wish I could deal with the same one each time, but not a reality like the older "mom and pop" type stores. But as stores goes today, I appreciate the excellent service I do receive at The Walgreens Store I choose to go to, out of my way. The only Con or negative aspect would be the dealing of different pharmacist that do not know me well, like the main one I have done the Majority of dealing with besides just filling prescriptions, such as dealing with a out-of-town Pain Specialist, and a NOT in demand type of Pain Medications. Especially now, when Insurance companies dictate to ALL physicians "HOW and WHAT" to prescribe. To much Insurance Company and Greed in my Opinion, which makes the pharmacist job more time-consuming. But as stores go, Walgreens does a excellent job taking care of me and my special circumstances. I like having a PharmD. running the Pharmacy as well. Thank you, and keep up the great services !