Description
Traffic Rider offers you a more detailed experience in racing games. It takes the racing genre to a brand new level with a full career mode.
You can feel better graphics, real life bike sounds and first person view perspective. It is time to choose a motorcycle and hit the roads! No timers, no fuel, just enjoy the pure endless fun!

Android

Iphone
Information
User-rating:
4.5 ( 2047 Reviews )
Screenshots: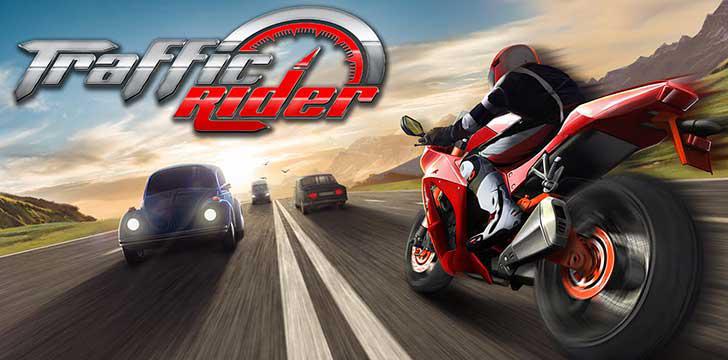 Features
Features:
★ 20 motorbikes for you to choose
★ Have first person camera view
★ Real motor sounds
★ More than 40 missions in Career Mode
★ Record achievements on online leaderboards
★ Support 17 languages
Traffic Rider is of course another masterpiece from the creators of Traffic Racer. And the app update always comes with user suggestions.
People also like
Reviews
by Pedro

Jogo muito bom!! Jogo roda bem no 640XL., não tranca e tbm não fecha sozinho. FAZ UM FASE COM CHUVA!!!! Pode ter a opção de mais cores pra luvas ou vc pintar a luva como quiser, como se faz com as motos! motos realmente com sons reais, música do jogo incrível e a câmera em 1° pessoas é DEMAIS!!!!!!!!Câmera em 1° pro traffic racer tbm já!!!!! Põe meu comentário como util pra ter melhorias vlwww galera!!!

Problem

by fayaj hossan

There is a problem. This game is not working properly. Everytime this game is crushed,can't play this game . Please solve this problem.

by Felipe

the game is very good, just that you could put new customization options, such as:-change the exhausts of the bikes: put a tailpipe with a snoring worse, others with the softer sound. place for us to pick our like you know?! -change the colors of the wheels of the bikes! -put curves on the slopes: run only in a straight lane sucks a bit, it would be more fun if he had a way with curves in that for "commuting" in them! -Add more bikes! all that's missing is those items! and I hope an update with some fixes in the game, and a better optimization. Thanks for listening! guys vote for my comment to them to bring these changes in future updates!

Awesome game very addictive

by Khushal

Very addictive game nice graphics

by PedroH

Muito bom! Show!!! O melhor simulador de vida real para quem tem moto nas ruas por aí, muito bom!

by XRX

Such a beautiful game. Glad to see it on WP Store. The graphics are amazing on my L720. But there are some problems.. may be just on 512MB RAM devices or for all!! The game is crashing when in garage looking for bikes. And during gameplay.. sometimes there is little lag too.. But it's okay. Hope you will solve above problems soon and I will be back to give you 5 stars next time. Thanks & Keep it up...!