Description
Hill Climb Racing is a racing mobile game developed by Fingersoft. This game has been released in September, 2012. Game players drive cars to run on the mountain that is very bumpy.
It is important for players to grasp great skills to control the accelerator and brake to ensure that cars wouldn't turn over. Players can collect coins along the way, which is used to transform the cars' background to guide the players for the game.

Android

Iphone

Windowsphone
Information
User-rating:
4.6 ( 2488 Reviews )
Screenshots: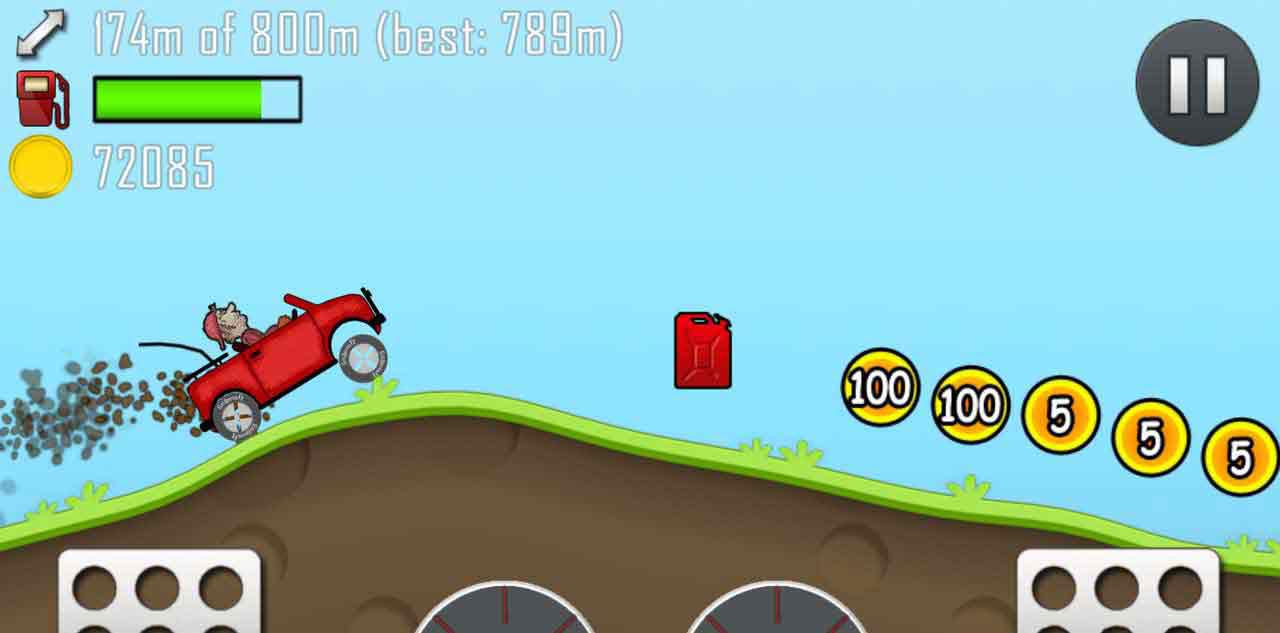 Features
Hill Climb Racing Best Vehicles
★ Motocross Bike / 75,000 – This one is wonderful for players to jump and flip, but sometimes it can be really hard to control.
★ Monster Truck / 100,000 – This one has a reasonable price to make lots of coins.
★ Tractor / 100,000 – It can be slow now and then. And you will find it difficult to climb big hills.
★ Quad Bike / 175,000 – It has some similarity with Motocross Bike, but it is better in all areas.
★ Tourist Bus / 200,000 – The ability to flip over with this giant mobile is weak. You may need to worry about its acceleration function.
★ Race Car / 250,000 – It is very good at catching air and also very fast to run.
★ Super Diesel 4×4 / 500,000 – You can use this one on the Moon stage to earn big money.
★ Rally Car / 750,000 – Great performance on traction.
★ Tank / 1,000,000 – You can drive this one to almost everywhere.
★ Snow Mobile / 1,000,000 – Very fast and great for tricks.
★ Truck / 1,000,000 – Never flip over. But it doesn't speed up good.
★ Dune Buggy / 800,000 – Does very well in money making.
★ Kiddie Express – Great for long distance running and helps you getting lots of coins.
★ Onewheeler – High speeds. It flips easily.
There are 19 different shapes of the automobile for players to choose. This game is based on the operation of the real physical properties. The gorgeous scene increased the playability and variability of the game. At the same time, it also makes the players feel the great racing operations.
People also like
Reviews
Moon=Gold Mine by Tyler

This game is a lot of fun! I highly recommend it. Here's a tip: If you need to earn coins quickly, take the Monster Truck on the Moon and rack up a ton of points by making huge jumps and doing flips. You can earn a couple hundred thousand in about 900-1000 meters. Tip #2: Take a fully upgraded tank (It is extremely stable) onto the Boot Camp level. Try to go as far as you can. I was able to make it to around 11500 meters before I couldn't reach the next fuel tank. If you can make it that far, you will be able to get about 6,000,000 coins overall with the level bonuses. It's a one-time thing, but you won't regret it! Tip #3: You can do pretty much the same thing as with tip 2 on the Highway with the extremely speedy fully upgraded Rally Car. I got to around 8000 meters on there, and I'm not sure how much I got from it, but it was definitely a lot.

love it by Tanya

the simple gas and brake makes it easy for anyone to play.

Great for kids. by Jr

My little brother is absolutely in love with this game. I have to admit I like it as well and have nothing but compliments for this game. Get this game it's worth it.