Description
Is NaturalMotion's second edition drag racer, CSR Racing 2 sends hyper-real drag racing to the palm of your hand with massive visual impact. The first edition has already significantly fed our eyes, now after four years of advancements in mobile gaming technology, NaturalMotion sets a higher standard in visuals by turning virtual car collecting art.
Here you can compete against live players across the world with your custom built supercars, team with friends, ride with maximum speed and dominate the fierce competition in global events.

Android

Iphone
Information
User-rating:
4.5 ( 1281 Reviews )
Screenshots: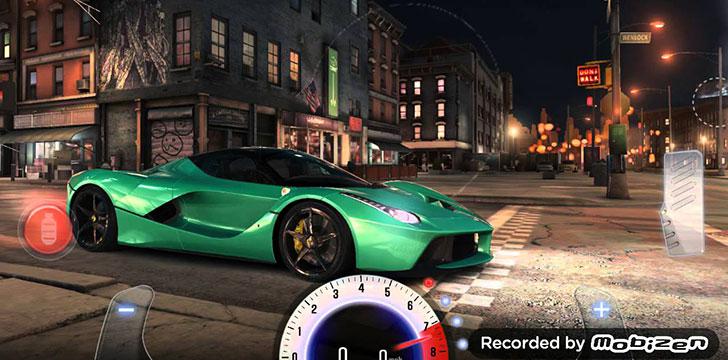 Features
New Player Guidance
1. Your cars
New users will be given 130 gold to buy the first car including Ford Fiesta ST, The Cooper S, Hyundai Veloster, Dodge Dart Mopar '13, Golf GTI, Scion FR-S, and Abarth 500. All these cars are similar in performance so that you can choose a preferred one.
After you earn enough money, the showroom is always open to buying some fine cars as your collection.
2. Upgrading and gassing up
Once you earn enough cash, you can upgrade your car. Seven engine parts are waiting to be upgraded, and every part has five steps. To be specific, some parts can be tuned or fused with rare ones.
A 10-pip tank can last about 20 minutes, and new pips refill every five minutes. If you are in a hurry, 20 gold pieces can refill your tank. Watching ads or inviting friends on Facebook will earn you some pip refills.
3. Solo racing and online racing
• Click on the gas pedal .
• Keep a light tapping to stay in the green will earn you a Perfect Start reward.
• When the gauge reaches the green zone, tap the pedal to do a classic shift which will also earn you some extra cash.
• Remember to tap the nitrous button to hit maximum speed or you will be at the danger of being exceeded.
4. Tuning, fusing and customizing
Once your car's condition reached its tipping point, tuning will be imperative to enhance the performance to another level. Generally speaking, you cannot finish a multiplayer race without constant tuning.
Some parts of the engine can be fused with rare, or epic parts which often come as prizes for winning some races.
Four sections of your car are allowed to be customized: The paint job, interior, livery, calipers, and license plate. They will cost you around $2,500 for an entirely new outfit.
5. Joining a Crew
After winning a few races, you'll be qualified to join a crew. Members of a crew can chat with each other and pin chats so that offline crew members will be able to see important information later.
Notes:
CSR Racing 2 is available for free on the iPhone and iPad and it looks the best on the iPad Pro.
People also like