Description
Talking Tom is a fun mobile application game where there is a pet cat called Tom. This app will be an interesting tool which can bring lots of entertainment for children. It can operate on the platform of Android and iOS.
Tom will repeat what users said in a funny voice. Users can touch him, pet him or grab his tail to make fun or can also make a video of what he repeats and send the video to Youtube or Facebook through email.

Android

Iphone

Windowsphone
Information
User-rating:
4.4 ( 2392 Reviews )
Screenshots: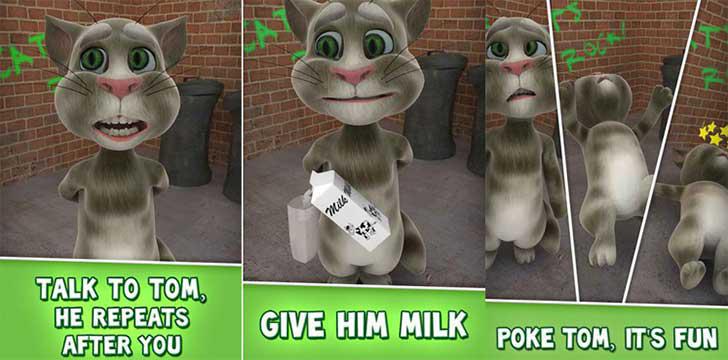 Features
For users who owns this application, the most interesting thing is they can say something they want to say to their family or friends, and then share the video Tom has repeated to their family or friends for some festivals or their birthday. That must be something surprising.
Talking Tom app is available for both Android and iOS systems. Come and download it for free. With this application, your children will be happy and enjoy it the whole day together with Tom.
The methods of how to play it will be listed as follows:
◆ Talk whatever you like to Tom and he will repeat what you say in a funny voice.
◆ You can press the button to make Tom scratch the screen.
◆ He will drink the milk if you pour one bottle for him.
◆ He will purr if you pet him on his head or feet.
◆ You can also record videos and share on Facebook, Youtube.
People also like
Reviews
its very funny!

by Steven

I kept on laughing if u press the paw button and tom will scratch the screen! LMAO:D

Nothing is truly free, is it?

by Pamela

You can pet him and poke him, and he will repeat what you say (I don't know about a funny voice), but everything else costs you money.

Nice!

by Ashley

The update is great! My only problem is that you have to buy him food with real money. It would be better if you had to earn it, like get so much food every hour or something. The improved graphics are great, and it's a lot of fun. It always makes me laugh even during my roughest days. I highly recommend for anyone and everyone!

Dumb

by derrick

All u do is say stuff and he repeats it and u poke him and u can't do anything else unless u buy do not get this its a horrible game the only good reson to get this is u buy the whole thing and I have a baby who won't stop crying lol it works on little kids anyway ill give this app 2 stars

Talking Tom Cat

by Olivia

This game is so much fun. I just love it so much. It is so amazing. It makes my heart happy. I love it so much that it makes me want to have all of the Tom cats in the world. Whenever I play this game it makes me feel much better.

Improvement

by Yuliya

I love how this game has been updated into a better version because back then it was pretty boring :/

by Rodney

Not as good as the original. Basically have to pay for everything in this one. Stick with the original for the best fun.