Description
Is the world's most popular mobile elimination games, Candy Crush Saga attracts millions of people's attention. Its unique, sweet, and dreamy candy style make the game more interesting and fun. The challenging pass-through map, pleasant sound effect, smooth playing feel, and creative play strategy give players the highest exhilarating experiences.

Android

Iphone

Windowsphone
Information
User-rating:
4.2 ( 2318 Reviews )
Screenshots: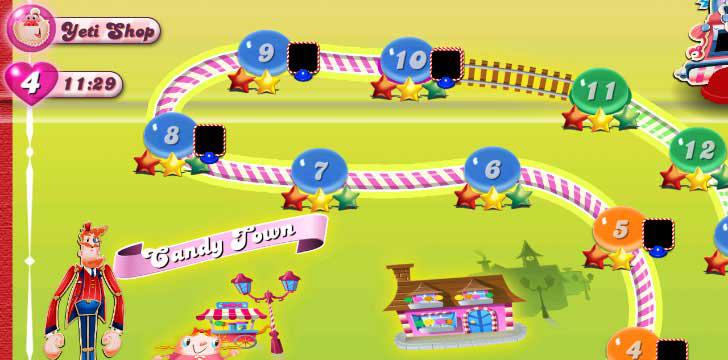 Features
★ Top 10 tips, tricks, and cheats
❍ 1. Find the pattern
Memorize those patterns can lead to special candies and set them up.
❍ 2. Start at the bottom
Crush candies from the bottom gives you more space and moves.
❍ 3. Go for combos
Make two combinations together will help you wipe out half the board.
❍ 4. Know the stripes
If a candy is moved horizontally, they will be a horizontal line, and will explode horizontally.
❍ 5. Assess the threats
Usually kill low number bombs first, then chocolate and blocks.
❍ 6. Clear jellies on the edge
Jellies on the corners and bottoms are hard to erase, so have a deep thought before moving.
❍ 7. Make a plan
New levels will get harder and harder, so make a plan and pause between moves.
❍ 8. Understand chocolate
Chocolate will avoid special candy, fruit or nut, and try to remove chocolate each round before they regenerate.
❍ 9. +5 Candy is a good helper
A candy chain with +5 will add 5 seconds to a time trial level.
❍ 10. Cheat time for extra lives
Go to Settings to change the date, adding two hours forward and you will get four more lives in the game.
Candy Crush Saga has more than 100 million daily active users now, the game has set off more than 500 points and several modes to play.
Not only it has the most beautiful interfaces, but also the way to achieve next goal is extremely attractive. It has been given the name of Candy Legend. So what are you waiting for? Download it now and challenge your brain with it!
People also like
Reviews
by marco

It stopped working again.

by Carol

Constantly have to uninstall and then reinstall game on my phone. Makes me very sad.

Moneymaker for makers

by LAVERNE

You have to PAY to advance levels????? that REALLY sucks. Shame on you for ripping off kids,, You should be reported! I give you no stars for making money off of kids that do not know any better. There is nothing cute or funny about luring people in with a seemingly free game that later charges when you become involved with it....Not cute......

Doesn't Load in Windows 10

by Robyn

It starts to load and then crashes in Windows 10. I've re-installed, rebooted, etc... It won't open on my laptop.

Problem

by Rahul

Its shows only loading .. !! ? which appear in black colour ?? whats the problem in windows 10 pro .. >.<

by Sally

I have absolutely loved this game until I got to the bomb level. NOT FUN. Not enough time and ways to get the switches you need to stay in play. Who wants to play a game where you only get five minutes of play out of full lives? BAH!! NO STARS