Description
World Around Me helps users to find places like restaurants, banks, subway stations and more in a unique way called Augmented Reality.Instead of reading maps, you may just turn on your phone's camera and the full detailed information around your location will stretch out on your screen.

Android

Iphone
Information
User-rating:
4.5 ( 1546 Reviews )
Screenshots: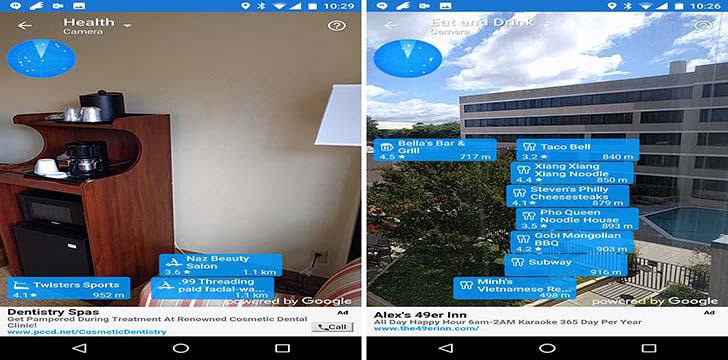 Features
Features:
➤ Search for places in more than 3o categories.
➤ By using keyword search, one can find all kinds of places around you.
➤ Get useful information including WiFi availability, credit cards acceptance, taking reservations, and outdoor seating.
➤ Check user reviews, price tier, photos directions, phone numbers, opening hours and more.
➤ Navigate with camera, list and map views .
➤ Give ranks to places around you by distance and importance.
➤ Measure the real-time distance to an object point.
➤ Search hotels around you with information such as room rates, the review summary, star rating, features, availability, and description.
Find places like
◆ Restaurants | Bars | Cafes
◆ Metro Stations | Train Stations | Bus Stops | Airports
◆ Banks | ATMs
◆ Gas Stations
◆ Movie Theaters
◆ Museums | Art Galleries
◆ Parks
People also like