Description
Outside of Google Maps, Google now introduces a standalone Street View app to let you explore and capture numerous places in 360-degrees. Launched in 2007, Google Street View is previously a technology rolled in Google Maps and Google Earth which provides panoramic views of worldwide streets.
As a standalone app, users now have been endowed the access to things that aren't allowed before, namely explore and contribute. With Street View app, you can capture photos of your favorite places with your cameras or phone both Android and iOS and publish them instantly to Google Maps. The fundamental function of exploring Street View will also bring you a better experience. All the images users see on this app are done and collected by various vehicles including car, boat, trekker, tricycle, walking, and underwater apparatus.

Android

Iphone
Information
Last-version:
2.0.0.140637942
User-rating:
4.4 ( 2010 Reviews )
Screenshots: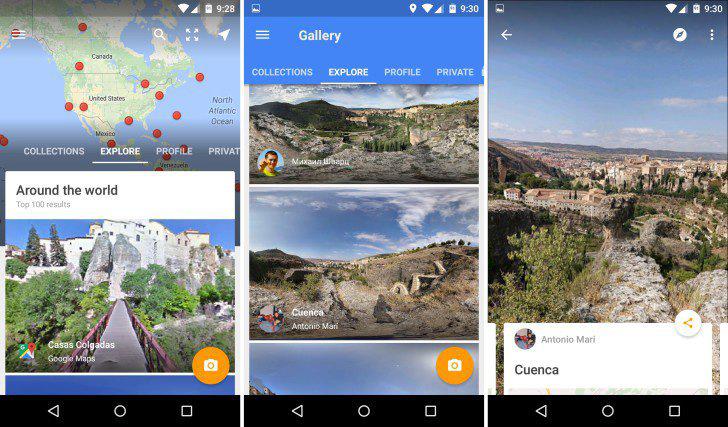 Features
Features
Explore galleries
✎ With Street View app, you can explore all the street view globally including photos sent by other people.
✎ In cardboard mode, view switching icon will show up by tapping the screen. Double tap that icon, then the interface will split into two: left and right. It's super cool to have such virtual reality experience.
✎ Your photos can be either open to the public or switch back to private spheres.
Contributing photos
✎ You can use your phone to take photos without any camera accessories.
✎ It's also workable to connect a spherical camera to take and share the photos.
✎ It's also your choice whether to share them to Google Maps as immersive photo spheres or set them privately as flat photos.
Final Thought
Google Street View app is very interesting and educational for people who wants detailed information about a location or just kill some time for fun. There's only one thing that needs your attention - it requires a large amount of data to collect and show you all the information, so it might cause a burden to your data allotment.
People also like