Description
Uber is an instant call-car application that is developed by Uber TECHNOLOGIES, INC. headquartered in San Francisco. Uber positions itself not only a car calling application, but also a tool "providing more high-end and private trip plans for passengers".
Uber works through the mobile applications to connect the drivers and passengers. In America, users can call a Lincoln, Cadillac, BMW, Benz and other luxury private cars through Uber. Driver will provide services politely with a pair of white gloves, making passengers enjoy the services of private cars and feel glad to spend the money.
Besides, users can also call compact cars such as Toyota Prius and Volkswagen Jetta by Uber. Uber has provided services in more than 55 countries including over 300 cities. Passengers can call a car through sending a text or on a mobile application and drivers can also track passengers' location through the mobile application.

Android

Iphone

Windowsphone
Information
User-rating:
4.6 ( 1695 Reviews )
Screenshots: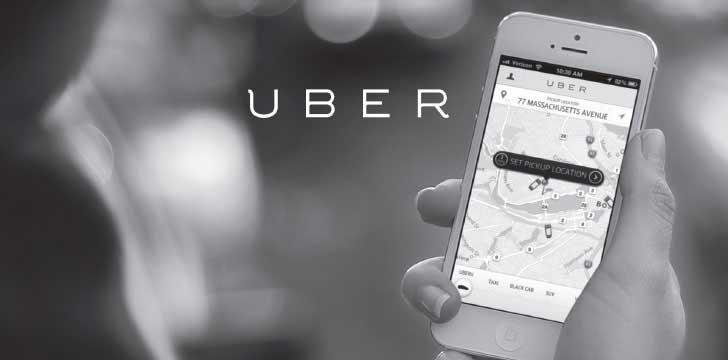 Features
Uber is a mobile application that is easy to operate. Users can use it whenever they want. Every time after the passengers get their destination, they will be informed of the cost.
The advantages of uber are as follows:
1. Uber can be a good life partner in users' life. Since it is easy to operate and helps people find wherever they want. It will be very convenient for them to use uber. And it can avoid them being late for work if they get up early. It is fast and cheap to use because sometimes uber will send many coupons to passengers.
2. Users can call a car whenever they want. It doesn't have the time limit for passengers. With uber, people won't miss parties with family members or friends. In addition, sometimes people are catching the plane or train, and then uber will be the best choice.
3. The superior service of Uber and the good, kind driver of Uber make you choose to use Uber. Uber is safe to use and now Uber has been a fashion for people. So choose Uber, it will provide the best service for users.
Uber was released in March 2009 by Travis Kalanick and Garrett Camp. At first, it was named Ubercab. Uber launched formal services in San Francisco in June 2010. This mobile application is available for iOS and Android system smart phones. Uber has a long history:
In the second half of 2010, Uber got the investment from a group of super angel in Silicon.
At the beginning of 2011, Uber was invested 32 million from Benchmark. It was invest once again 32 million at the end of the same year.
In April, 2012, Uber tested the low-price car rent service in Chicago.
In July 2012, Uber entered the market in London, and the initiative cars had 90 Mercedes-Benz, BMW and Jaguar.
In June 2013, Uber began the trial operation in Taiwan and on 31, July 2013, it began to operate officially.
In July 2014, Uber first released the smartphone application for Windows Phone.
In March 2015, the search company deCarte was purchased by Uber. And Uber indicated that it would keep on improving the map product and service through buying deCarte.
Uber will be the best choice for people to get one place in a fast and safe way. Choose Uber and begin your new journey here!
Download More: UberPartner: Uber's New Driver App
People also like
Reviews
OMG update this already

by Wayne

Driver's constantly complain that it only says"Drive to pin" on pick up even though I explicitly enter an address. Driver position and accuracy is delayed by up to a minute sometimes. Need to be able to enter business name and not know exact address. Where is "send ETA" function? It used to be there. Ugh, please fix these basic features.

Detecting Inaccurate Pickup Location

by Nikhil

This Uber App has a basic flaw. Detects inaccurate pickup location from Windows GPS. I request Uber to address this issue. It's a very important and basic point.

Love Uber, but...

by Koby

Love uber. But this app has just one issue that the other platforms don't have: choosing the destination is really hit and miss - I can type the name of a well known international airport and it doesn't know it. However if I type the name of an esoteric donut shop it knows it right away. Otherwise the regular updates have fixed all the other issues I've had in the past. One other thing: Some drivers tell me (complain actually) that my pickup locations don't include an address when I drop a pin for the location. I assume this is a problem or limitation of the Windows Mobile app.

Maps still needs improvement

by Bobby Jhon

Almost at par with ios and google. With ability to pin on destination. Map still a big issue.. Still unable to type in names of places/ buildings.

Need to further improve the map

by Hethler

Finally, the much-needed "Drop-Off Location" feature. Now the challenge is to further improve the maps: my pick-up and drop-off location can't be found all the time so I have to input it thru the driver's phone which is really becoming inconvenient. Also the ability to show my trip history and to save most visited location (work, home, gym, etc.). The app on Windows is still not par with those of iOS and Android.

Do yourself a favor, pin the mobile site

by Michael

The mobile site has been completely revamped, is quicker and much more full featured than this app. It had initial promise (and still works) but rarely features significant updates.