Description
Toca Kitchen lets players cook and play with food for any one of four hungry diners like a virtual chef. It's both fun and educational for kids to explore their imagination by preparing all kinds of food mixing.
There are four game characters for players to choose from, a boy, a girl, a bull, or a cat. Once you select a character, you can pick from 12 food items and prepare them in your own way! The app allows you to slice, boil, fry, microwave or mix all the food and feed the character. The food will change after the preparation and different characters react to the food in a variety of ways.

Android

Iphone
Information
User-rating:
4.6 ( 2382 Reviews )
Screenshots: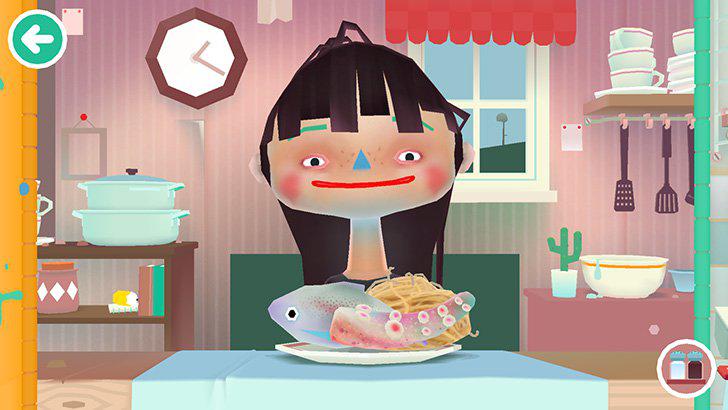 Features
Features
☻ Kid-friendly design with cute cartoons
☻ Four characters with different tastes of food for you to cook for
☻ 12 different food items that can be prepared in various ways you want
☻ Boil, fry, Slice, microwave or mix anything you like
☻The game is unlimited and never ending with no rules
☻ No in-app purchases or third-party advertising
Pros:
☻ Open-ended food combinations
☻ Play without limits or stress
☻ Cute character reactions
Cons:
☻ Some preparations such as slicing and feeding small pieces may need some skills which can be hard for little kids.
About Toca Boca
As the app's developer, Toca Boca has won Parents Choice Awards 2012. Toca Boca believes that playing is the best way to learn about the whole world, so they aim to help kids to exploit the imagination and create games for parents to play with kids. No third-party advertising or in-app purchases!
People also like
Reviews
NICE GAME FOR KIDS

by Alicia

This game is really good education for kids and a little bit fun for older kids. Perfect graphics and not a lot of ads.

by Aidan

Fun to cook, good sounds, engaging for a long period

Add more choices to choose from

by Brayton

Fun, but I started to get bored of it the day I downloaded it. Add more food, like desserts. It could be separate from the main meal. You could have it you could choose if you making an appetizer, main meal or dessert, and add more cooking choices too.

great for kids

by Janine

My kids love the Toca games, including this one.

Fun app for kids

by Hung

This is a great app for kids, allows them to learn about food and get creative with it!

by Sigmundr

Best mobile games, idc how old you are haha

Four stars

by Ellie

I would have rated it five stars if: 1. They ate everything. They wouldn't eat hay. 2. You could mix the food. You could have broccoli but not mix it with anything else 3. The people who made it lied and it is not free.

by Tina

My daughter loves this! Actually...so do I!