Description
Sresented by PlayToddlers, Sweet Home Stories is an educational app designed for children aged 2-8, which aims to foster children's imagination and creativity and improve their language skills by creating stories. It is an attractive and safe doll house provided game for kids and teach them to use their imagination for story creation.
It is available on both the Android and the iOS system. Are you ready to download it for fun?

Android

Iphone
Information
User-rating:
4.1 ( 2211 Reviews )
Screenshots: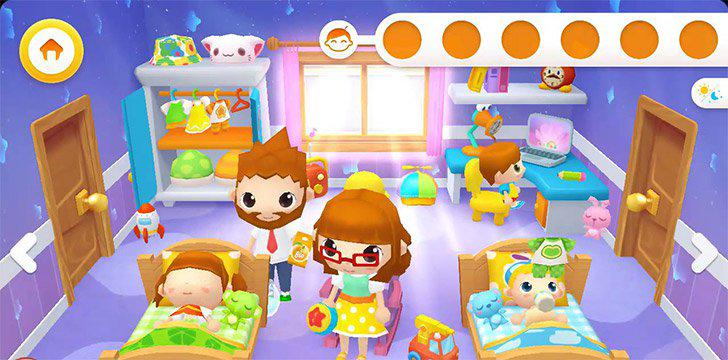 Features
What Sweet Home Stories Offers
Create family stories
Children can join the family of 6 characters in their daily life to create their own home stories. In the cozy house, they can enjoy playing, exploring what they are interested in. They can also try different roles like to be the parents to make meals, diaper the baby and dress for them and more else.
Discover & play freely
It will provide a brand new adventure every time the children start to play. There are totally seven rooms providing different equipment and thousands of possible interactions which offers full of surprises. No rules here, just enjoy themselves with everything they see.
Reinforce routines
Here parents can also play with their children to help them learn new routines and vocabulary. Suggest them in the game if you want them to clean their room by themselves. Remind them in the game if you want them to brush their teeth every day. Children can learn and form a good habit while playing.
Key Features
+ Just enjoy the story creation, no rules here.
+ No third-party ads, pay one & play forever.
+ Explor and play using hundreds of items.
+ Kid-safe enviroment for children aged 2-8.
+ Items you've expected to have in a house are filled in every room.
+ 7 rooms for children to use: a living room, a kitchen, the parents' room, the children's room, a bathroom, the front yard and the backyard.
People also like
Articles
Sweet Home Stories Unlocked Apk

VERSION: 1.1.0. Mar 29, 2018 - APK INFO Name of Game: Sweet Home Stories – My family life play house. Name of cheat: -All Rooms Unlocked. Sweet .

Sweet Home Stories Mod Apk Unlocked

Direct Download (35.1 MB). May 26, 2018 - Developer:mod games studio / Version: 1.1.0. We suggest use HappyMod with which will with download Sweet Home Stories - My family life play house mod v1.1.0 along along with 3x speed.