Description
Amazon Kindle app gives everyone the right to read books, magazines, newspapers now. There're over a million books inside the app, and you can just access them with your fingertips. Especially you don't need to own a Kindle to use the app.
Users can read free books like Pride & Prejudice or go to the store to purchase anything you interested with. Besides, you can sync your ebooks between several devices and customize your reading habit.
There also provides sample books to read before buying. If you want to learn more about this app, go to amazon.com to find out more information.

Android

Iphone

Windowsphone
Information
Category:
Books & reference
User-rating:
4.2 ( 1398 Reviews )
Screenshots: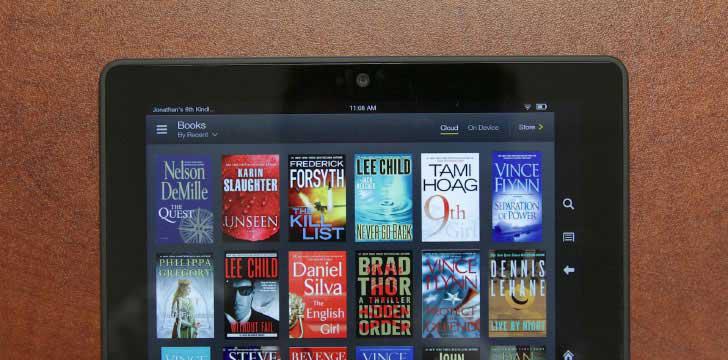 Features
Features
◆ Reed free books
Thousands of books on this app can be read by users for free. There are varieties of books for you to choose.
◆ Reading tools
The Amazon Kindle provides tools like built-in dictionary, google, and wilipedia that will be more convenient for readers to read.
◆ Customize reading
Readers can adjust the screen brightness and the font size, background color according to their preference.
◆ Provide sample books
Before you decide to buy the book you want to read, you can read the first chapter of the b
◆ Sync the books
This application can sync the book you read last time, and then you can start reading the same page of the same book on another device.
People also like
Reviews
Went down hill

by Jerry

The app used to work for me real well on my Windows 10 phone, and previous Windows version phones. Today I wanted to use the app and it presented the registration page like I was a new user. I entered my email address and password for Amazon that it requests. And it says that one of them is wrong. I went to Amazon and verified that they worked fine going directly to Amazon. I went back to the Kindle Reader app and it's still telling me that it doesn't recognize one or the other so I'm deleting it.

Shame

by Valentin

This app hasn't been updated in years, falls far behind Kindle apps on other devices, even behind the Windows desktop version. Amazon, please make a universal app for Windows 10. It will work on everything: desktops, tablets and phones. Kindle devices are great, but windows devices are what people use every day, with variety of screen sizes, pen support for annotations, etc. Please, bring the fully functional reading app to where the hardware is great and diverse, thank you.

Amazon hates Windows

by Gregory

It's been obvious ever since the Kindle Fire came out that Amazon favors other platforms over Windows. This app is evidence in that regard - it is barely functional enough to be called a reading app. I have all but stopped using Amazon since they refuse to offer comparable experience to iOS and Android on the Windows platform. No audio features like on iOS, many other settings missing. On another note, Amazon also does not offer an Instant Video app like on other platforms, with ability to download and view videos later. Amazon was cool a few years ago, but has SERIOUSLY gone downhill in the last three years. Please Amazon, if you read these reviews, just port your iOS or Windows Desktop app to a Universal Windows App (UWP). It would make everything easier and a whole lot of people happier!