Description
If you are looking forward to challenging yourself and wanting to improve your game skills to be a master player, here is the right place you should come. You will act as a general in the game World Conqueror II to complete a variety of campaigns.

Android

Iphone
Information
User-rating:
4.1 ( 1399 Reviews )
Screenshots: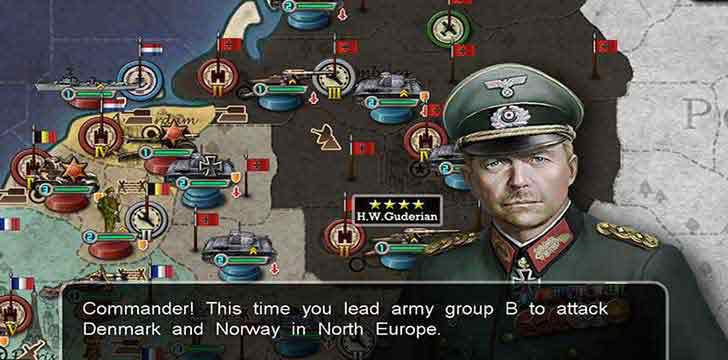 Features
These campaigns are mainly during World War II and Cold War, where you can show your strategic command and experience of how you meet the enemies' attack. Your military rank will grow if you get more and more achievements in the war.
There are two kinds of mode for this game, one is the single-player mode, and another one is the two-player mode. You can enjoy whatever you like. Meanwhile, for the single player mode, you may conquer different players from all over the world in the campaigns.
People also like
Reviews
Great game

by joshuwa

I love the game but all of the easy tech apps aren't working properly on windows 10, They blow up really big and I can't do anything

Now works with Windows 10

by Jonathan

One of my favorite risk style games for both ipad and laptop. Very happy they fixed the screen issue on Windows 10. A great strategy game.

will not display right in windows 10

by cynthia

Please fix this problem it took time to download and I update to windows10 hoping that it will be better and my games will not work you make an upgrade but you don't tell us the cache why fix this problem you can do it its not only this game that is not displaying right this is just one of them please fix the problem. The game is great though I really liked it before it stopped displaying right :(

Very Good Game.

by Immortal Phoenix

I have spent only $19.99 on the medals because I wanted to get as much power as I can. I tried to get as many medals. I have realized that the only musts in the game are the fleet, att and def medals. I do not get why there are different lvls for them. I love games like these and I have become addicted to them. If you want to get medals through hard work, that would be a very good challenge. If you want an easy game, buy medals. I plan on getting just the fleet, att and def medals only. Everything else, I will work for in the game. :) I could not beat the African or the North American scenarios at all. :( On the mobile, the sound goes off after a while when you reset the game or when you quit the game and restart the saved game. I play the game on my comp and mobile. Both are totally separate from each other. If you play on the mobile and you want to play on the comp, you would have to start all over. They are not connected, which in a way is a good thing, in case you use real money.