Description
Brand new gameplay features in Castle Clash! Explore the most popular strategy game with other Clashers all over the world!
Castle Clash is a base-building strategy game that players need to build armies and attack enemies. Users can collect resources, gather goods and compete to be the most powerful player.

Android

Iphone

Windowsphone
Information
User-rating:
4.2 ( 1815 Reviews )
Screenshots: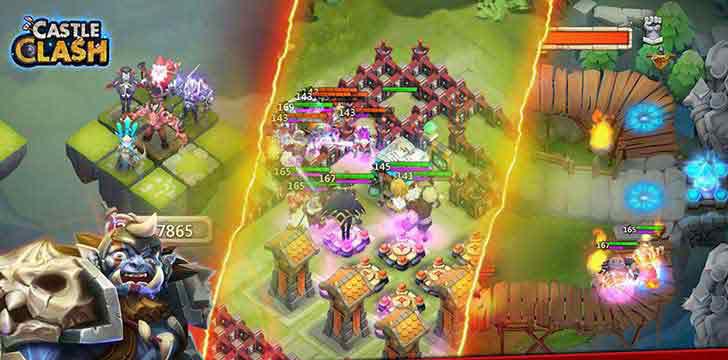 Features
Game Features:
★ Battle with strong heroes.
★ Defend your bases.
★ Create and upgrade your fortress.
★ Build your ultimate army.
★ Have realistic and thrilling battles.
★ Compete with other players.
★ Always free to play.
The new version of Castle Clash has fixed the problem of 963 or 907 when you're trying to update the game. You can try un-mounting your SD card and redownload the game.
People also like
Reviews
GREAT!! PERFECT

by Jeffrey

Great game... absolutely love it... I think it is very enjoyable

Best castle building game!

by Unknown

Lots to do, especially as you grow and become more powerful. Lots of gifts for the free player. Hero graphics and their powers are awesome. Raiding other players is very entertaining.

Very Awesome

by Nnamdi

Very good game and graphics easy to level up and very similar Clash of Clans.

addicted!

by Beth

Beware! This game is totally addictive! lol. Only problem I have ever had is losing an account when my device has died so just make sure you have all your account info documented for easy recovery. Lots of updates and modifications lets you know that igg actively keeps working improvements on the game! Thanks igg!!!

cool game

by Unknown

its a great game and its not super easy you have to work at it.

Addicting

by Kelly

I enjoy the variety of challenges, the amount and capabilities of heroes. This game can be very involved if you want it to be. I enjoy this distraction. It has held my attention for over a year now. Great content and continuous updates to keep the game fresh.

by fahim

Awesome...u guys r keeping up with the android version...thats really great...hoping u will keep up the good work...cheers...

Love u CC

by Amitabha

Most addictive game but gives a lot of happiness.. Best game ever.. Member of Dark_Knight (MrTran)